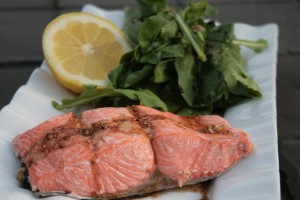 This is a perfect meal for one, or two, or three…what I mean is it's easy to scale. I am cooking for one tonight and this is one of my favorite ways to prepare a quick salmon dinner. The quantities below are for four servings. For one, I halved the dressing recipe (and had leftovers) and used one salmon fillet. A little sweet onion added to the salad is the perfect finishing touch. Enjoy!
Salmon and Arugula with Lemon-Balsamic Vinaigrette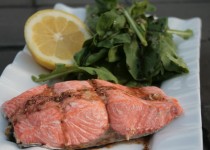 Prep Time:

5 minutes

Cook time:

10 minutes

Yield:

4

Allergens: Fish
Ingredients:
Preparation:
Combine dressing ingredients in a small bowl and whisk to combine. Set aside.
Place about one inch of water in a large, deep skillet. Bring water to a boil, reduce heat to medium, and place bamboo steamer inside pan.
Oil top rack and place salmon fillets on top in a single layer. Use both racks of the steamer, if needed, making sure to oil each rack. Place lid on steamer.
Steam salmon for approximately 5 minutes or until the fish flakes easily with a fork.
While fish is steaming, arrange arugula on each plate. Top with onion, reserving some for garnish. Drizzle a little dressing and toss to combine.
To serve, place salmon on top of arugula, top with remaining onion, and drizzle with a little more dressing.
Adapted from myrecipes.com.