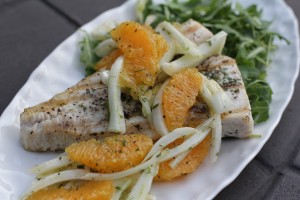 I have prepared this recipe with both snapper and swordfish, both with amazing results. The swordfish tastes buttery and delicious, while the snapper is a bit more delicate and mild. But with some wild fish being so pricey, feel free to use whatever firm whitefish is on sale.  Try to get juicy, flavorful oranges. I used Valencia oranges. It makes all the difference in flavor. The rosemary and thyme add a lovely zip to both the fish and the salad. If you don't like rosemary, substitute with an herb you have on hand, or leave it out. This dish is easy enough for a weeknight meal, but impressive enough for company.
Sauteed Fish with Orange-Fennel Salad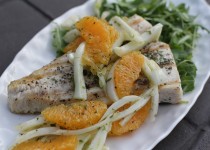 Ingredients:
Preparation:
Peel and section oranges over a bowl, reserving 2 Tbsp juice.
NOTE: To easily section oranges, use a sharp paring knife to cut off the top and bottom of the orange. Next, cut the peel off in sections from top to bottom, removing the thin outer layer of the orange segments as you go. Then, with the orange over a bowl, use a v-shaped cut to remove the segments.
Thinly slice fennel bulb (by hand or with a mandoline).  Chop 1 tsp of the fennel fronds. Discard the stalks.
Finely chop thyme and rosemary.
Place orange sections and sliced fennel in a medium bowl.
Combine reserved juice, chopped fronds, 1 Tbsp olive oil, 1/4 tsp salt, 1/4 tsp pepper, 1/2 tsp thyme, and 1/2 tsp rosemary in a small bowl, stirring with a whisk.
Drizzle juice mixture over fennel mixture; toss well to coat.
Heat coconut oil in a large pan or griddle over medium-high heat.
Sprinkle fish evenly with salt, pepper,  and remaining rosemary and thyme. Press it in with your hands so seasonings adheres to the fish.
Add fish to pan; cook 4 minutes on each side or until desired degree of doneness. You may also grill fish over medium-high heat until it flakes easily with a fork.
To serve, place a mound of arugula on each plate and drizzle with olive oil. Season with salt and pepper. Arrange fish crosswise over arugula, then top fish with fennel salad.