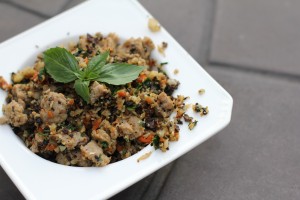 The idea for this recipe all started when I ordered portobello mushrooms with my organics order. I full intended to create an amazing stuffing using cauliflower rice and sausage. Well, when I finally got around to making the stuffed mushrooms, my once beautiful and firm portobellos were looking a little haggard. At that point, I decided to just chop them up and integrate them with the rest of the stuffing ingredients. It actually turned out delicious and was way easier to eat from a bowl than stuffed inside a mushroom.
So here it is. I hope you enjoy this easy meal. It is very adaptable to what you have on hand, so don't be afraid to have fun with it. This recipe is AIP friendly and perfect for my 21-day cleanse. But if you aren't into any of that, some tomatoes would accent this meal perfectly.
Unstuffed Portobello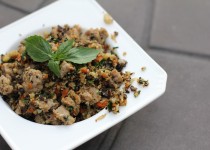 Prep Time:

15 minutes

Cook time:

25 minutes

Yield:

3-4 servings
Ingredients:
Preparation:
Preheat oven to 400°F.

Place cauliflower in the bowl of a food processor and pulse several times until it resembles rice. Transfer to a large, rimmed baking sheet.

Repeat step 2 with mushrooms, carrots, and onions. Add each one to the baking sheet, stirring to combine the vegetables.

Sprinkle with fennel, salt, and pepper, then drizzle with fat (I used lard but coconut oil would work well.). Toss gently to combine.

Place baking sheet in oven. Use a folded dish towel to prop the oven door open slightly so that the moisture is released.

Bake for 20 minutes or until mixture is fragrant and cauliflower is toasted.

While the vegetables cook, saute sausage in a large skillet over medium high heat. Add garlic during the last minute of cooking.

When veggies are done, remove them from the oven and transfer them to the skillet with the sausage. Add parsley and basil and stir gently over low heat until all ingredients are well combined.

Divide into shallow bowls and serve.