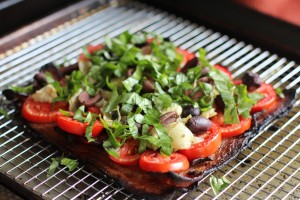 This bacon-crusted pizza is easy and fun to put together. I've tried almond flour crust, cauliflower crust, and eggplant crust, but not BACON crust. Yum! How could a crust of woven bacon be anything but awesome? I did my own thing with the toppings, so feel free to add your favorites…or use mine. I simply sliced fresh Roma tomatoes and topped them with marinated artichoke pieces, kalamata olives, and fresh basil. I hope you enjoy this tasty meal, appetizer, or snack!
This recipe is adapted from the Ketogenic Pizza with Bacon Crust recipe from the Fast Paleo Top 100 of 2012 e-book, available now as part of the Harvest Your Health bundle.
Although this bundle is no longer available, you can find out about future bundles by subscribing to Paleo Table. I'll keep you in the know!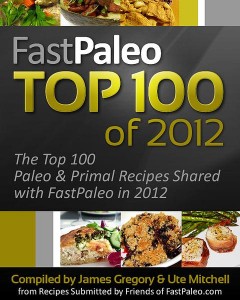 If you like this recipe, you'll love the Harvest Your Health bundle. There are 15 amazing paleo recipe and food preparation books in addition to 56 other e-book, 3 subscriptions, and 18 great discounts—all carefully selected by the Primal Toad himself to help you lead a healthier and happier life.
This bundle is selling like crazy, but luckily, it's impossible to run out of e-books. But even so, don't miss your chance. Time is running out. There are less than 100 hours left in this awesome sale! Click below for the details:

Bacon-Crusted Pizza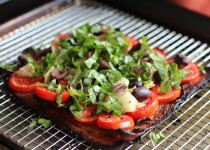 Prep Time:

10 minutes

Cook time:

25 minutes

Yield:

2-3 servings
Ingredients:
Preparation:
Preheat oven to 425 degrees F.
Weave bacon strips in a lattice pattern and place on a wire rack set inside a rimmed baking sheet.

Bake bacon lattice for 20-25 minutes or until slightly crisped but not completely done.
Remove from oven  and layer on the toppings of your choice.
Return to oven and bake until toppings are warmed through, 5-10 minutes.
NOTE: When garnishing with fresh basil, I prefer not to add the basil to the top until the pizza is done cooking.