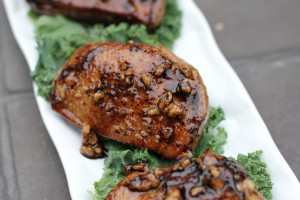 I make duck only a few time a year. Not because I don't LOVE it, but because it's so darn expensive! The last thing I want to happen when I cook it is for it not to turn out great. This recipe is just that–GREAT! The warm, sweet combo of honey, balsamic vinegar, and vanilla is perfect for fall. By cooking the duck on the stovetop, you can ensure it doesn't over or under-cook. I like my duck pink in the middle, and these instructions resulted in a perfect medium to medium-rare duck breast. A cast iron skillet is perfect for this preparation, but any large, heavy skillet will work. Just don't turn the heat up too high or the skin will burn instead of brown.
Clean up on this one is a little sticky because the glaze quickly solidifies in the pan. Just let it soak in water for a bit and it will come right out.
We enjoyed this meal with roasted acorn squash. Super yummy and quick enough for a weeknight, but special enough for company! Enjoy!
Duck Breast in Honey Balsamic Glaze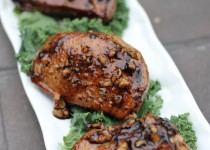 The quality of your balsamic vinegar will really show in this recipe. Buy the best one you can afford.
Prep Time:

10 minutes

Cook time:

20 minutes

Yield:

4 servings
Ingredients:
Preparation:
Combine vinegar, honey, and vanilla in a small bowl.
Heat a heavy skillet (I used cast iron.) over medium heat.
Season duck with salt and pepper. Place duck breasts, skin side down in the pan and cook for 8-10 minutes or until the skin is nicely browned.
Flip duck and continue to cook for another 4-5 minutes or until cooked to medium.
Transfer duck to a platter, cover loosely with foil, and pour duck fat into a container to save for another use.
Add vinegar mixture and walnuts to the skillet, deglaze the pan by scraping up the browned bits on the bottom. Stir over medium heat until it is thick and bubbly, 2-3 minutes.
Transfer duck back to pan and turn several times to coat with glaze.
Serve glazed duck breast immediately with additional glaze, if desired (but I really don't know who WOULDN'T desire more of this glaze!)
Adapted from frenchfood.about.com.