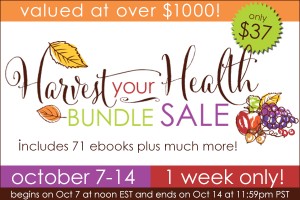 Although this bundle is no longer available, you can find out about future bundles by subscribing to Paleo Table. I'll keep you in the know!
Are you like me, always waiting until the last minute, taking time to thoroughly mull over every aspect of your potential purchase, making sure it's right for you? Sometimes I spend SO much time debating a purchase, that I miss out on it altogether.
Well, I didn't want you to miss out on your chance to take advantage of this amazing offer. The Harvest Your Health bundle sales have EXPLODED. With almost 6,000 bundles sold (as of this post), this has got to be one of the most successful bundle sales in history! And it's no wonder! For only $37, you get:
71 ebooks
22 discounts
4 meal plans
3 online magazine subscriptions
1 month to an online fitness plan
$1107 value when you add up the cost of all products

How will the products in this bundle benefit YOU? They will help you to…
Recover from dieting.
Cure your skin compulsions.
Start a garden from your apartment.
Create delectable chocolate treats.
Learn how to feed your cats raw food.
Eat in a way that promotes fertility.
Cure your acne and become clear for life.
Eat real food while on a tightwad budget.
Prepare and utilize natural home remedies.
Cook and prepare paleo/real food with ease.
Enjoy homemade ice cream from real ingredients.
Educate yourself on detoxifying your body and life.
Blend smoothies made with real food that taste great.
Fall in love with broth and become a broth connoisseur.
Instill healthy eating habits during your babies first year.
Teach your children the importance of cooking with real food.
Become familiar with the superfood kale and learn to cook with it.
Discover how to pick, prepare, and plate the most common vegetables.
Complete a 30 day introduction to Paleo while building your relationship with food.
Plan your meals by week and even month so you don't have to worry about dinner every night.
And so much more!
Don't miss your chance! The sale ends tonight…