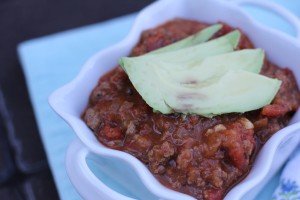 This recipe is quick and yummy. In about 20 minutes, you can enjoy a warm, soothing bowl of soup that packs the delicious punch of a spicy taco. If you are a lover of Mexican foods like I am, you'll really enjoy this recipe. It was designed as a crock pot recipe, but I made it on the stovetop and let it simmer for a couple of hours. It got great reviews from my hubby, and it was especially good served over paprika cauliflower rice (I'll post that recipe, too, but I have to make it again so I can take pics). I would describe this dish as a taco chili instead of a soup. But whatever you call it, it's GOOD. Perfect for game day or any day!
This recipe is adapted from the Fast Paleo Top 100 of 2012 e-book, available now as part of the Harvest Your Health bundle.
Although this bundle is no longer available, you can find out about future bundles by subscribing to Paleo Table. I'll keep you in the know!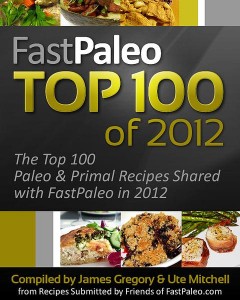 If you like this recipe, you'll love the Harvest Your Health bundle. There are 15 amazing paleo recipe and food preparation books in addition to 56 other e-book, 3 subscriptions, and 18 great discounts—all carefully selected by the Primal Toad himself to help you lead a healthier and happier life.
This bundle is selling like crazy, but luckily, it's impossible to run out of e-books. But even so, don't miss your chance. Time is running out.  Click below for the details:

Paleo Taco Soup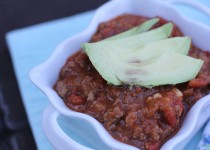 This recipe can also be prepared in the crock pot by completing through step two then cooking on low for 6-8 hours.
Ingredients:
Preparation:
Brown ground beef in a large pot over medium heat. Drain fat.
While beef cooks, place onion and garlic in the bowl of a food processor and pulse until finely chopped. Add to the ground beef, along with all remaining ingredients. Stir to combine.
Bring to a boil and then reduce heat and simmer for 30 minutes or more. The longer you allow the soup to simmer, the more flavorful it will be.
To serve, spoon into shallow bowls and garnish with avocado. This soup is also great served over paprika cauliflower rice.
Adapted from whatigather.com in Fast Paleo Top 100 Recipes of 2012.