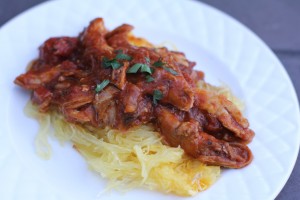 I was stumped about what pumpkin recipe to try from the Civilized Caveman's A Paleo Pumpkin Thanksgiving recipe book. The mini-book contains seven yummy pumpkin recipes including pumpkin pancakes, pumpkin chicken chili, pumpkin  spice pot roast, and this one: Pumpkin Spice Chicken Cacciatore.
It sounded a little adventurous to me, the combination of tomatoes and pumpkin. But after one taste, I got it. You know how a lot of traditional tomato sauce recipes call for sugar to cut the tartness of the tomatoes? Well, in this recipe, George Bryant brilliantly combines pumpkin and warm spices like cinnamon and nutmeg, to a similar effect. If you think you might not want to try this recipe because it will taste like pumpkin, think again. The pumpkin taste is SO subtle, and the sauce is smooth and delicious. I took a few liberties with the preparation of this recipe, simply because I can't leave well enough alone, but the ingredients are the same. This one is definitely worth trying, and it makes plenty for leftovers or freezing.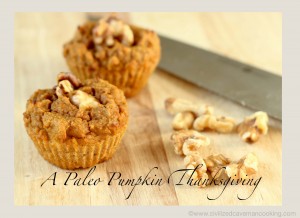 Although this bundle is no longer available, you can find out about future bundles by subscribing to Paleo Table. I'll keep you in the know!
You can own this recipe and hundreds of others, plus a huge variety of healthy living books to help you clean and organize your home, your body, and your life—71 carefully selected e-books and other amazing discounts and subscriptions, all for only $37. There are less than six days left in the promotion, so check it out now:

Pumpkin Spice Chicken Cacciatore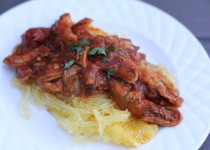 Be sure to read the preparation instructions all the way through before starting. You will complete some steps concurrently to make the most efficient use of your prep time.
Prep Time:

60 minutes

Cook time:

45 minutes

Yield:

6 servings
Ingredients:
Preparation:
Preheat broiler.
Place peppers on foil and broil for about 3 minutes on each side or until well charred. The Serrano pepper will blacken more quickly, so remove it while the red or green pepper continues to char.
Use tongs to remove peppers from oven. Transfer peppers to a glass container with a lid (or cover with foil) and let rest for 5 minutes. This resting period helps to steam off the charred skin, making it easy to remove.
Change oven temperature to 400°F.
Cut spaghetti squash in half lengthwise; scrape out and discard the seeds.  Place squash halves flat-side-down on a rimmed baking sheet. Bake for 20-40 minutes, depending on the size of your squash. The outside skin will get soft and lightly browned, while the flat side will be lightly toasted and easy to scrape into strands. Use a fork to scrape the spaghetti squash flesh into a bowl; keep warm. While spaghetti squash cooks, complete the rest of the meal.
 Scrape off charred skin of the peppers. Cut peppers in half, then remove and discard seeds and stem. Dice peppers and set aside.
NOTE: I wear thin latex-type gloves (purchased in bulk at Costco) to skin and chop the peppers. This saves me from accidentally getting hot pepper in my eyes later. Ouch! I highly recommend using the gloves.
Heat coconut oil in a large stock pot or Dutch oven over medium-high heat.
Add chicken and cook for 3-4 minutes on the first side, then use tongs to flip (it should release easily) and continue cooking an additional 3 minutes or until lightly browned, but not cooked through. You may have to do this in batches. Transfer chicken to a bowl or plate.
Place red onions into the pan and saute until tender, about 4-5 minutes.
Add peppers, cinnamon stick, cumin, paprika, allspice, nutmeg, and cloves. Stir continuously for 2 minutes.
Add tomatoes with their juices, tomato paste, and water or broth, stirring to combine.
Nestle chicken into the sauce, then cover and simmer over low heat for 40 minutes.
NOTE: You may be tempted to add more liquid at this point, but don't. You will have plenty in the end.
Transfer chicken to a bowl using tongs or a slotted spoon. Use two forks to shred the chicken.
Add red wine vinegar, pumpkin, salt, and pepper to the sauce, stirring to combine and break up the pumpkin.
Transfer the shredded chicken back to the sauce. Stir to combine. Simmer for 5 minutes or until it reaches your desired consistency.
To serve, divide cooked spaghetti squash among plates and top with sauce.