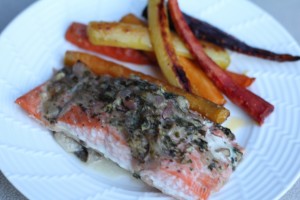 If you followed my recent 21-day cleanse on Facebook, this recipe is from one of the books that inspired me to do the cleanse. The 21-Day Paleo Cleanse, by Jason and Neely at Paleo Plan, is a very detailed guide to doing your very own cleanse. It clearly describes why a cleanse might be right for you, as well as providing detailed meal plans for all 21 days, complete with shopping lists and recipes.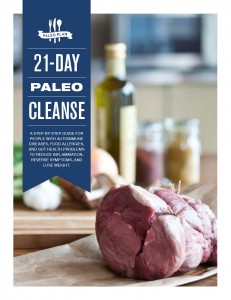 The awesome thing for me about doing the cleanse, is that we ate without any feeling of deprivation. This recipe is an example of how easy and delicious meals can be, even if you are dealing with an autoimmune issue. I am always looking for different ways to prepare salmon, since we eat it often. This dish is very flavorful, thanks largely to the basil/shallot/garlic combination. It was quick to make and would go well with any side dish. I just roasted some rainbow carrots in the oven when the salmon was cooking. Give this one a try!
Although this bundle is no longer available, you can find out about future bundles by subscribing to Paleo Table. I'll keep you in the know!
If this looks yummy to you, check out the e-book and 70 others, plus discounts, subscriptions, and more in the Harvest Your Health bundle. It's a crazy good deal! Click here for the details:

Salmon with Coconut Cream Sauce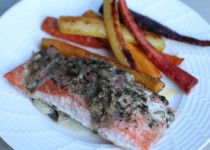 Prep Time:

20 minutes

Cook time:

20 minutes

Yield:

2 servings
Ingredients:
Preparation:
Preheat oven to 375°F.
Place salmon in a shallow baking dish and season with salt and pepper.
Heat coconut oil in a medium saute pan or cast iron skillet over medium heat. Add garlic and shallots and saute until tender and fragrant, 3-5 minutes.
NOTE: Keep the heat at medium so the garlic doesn't burn.
Add lemon zest, lemon juice, and coconut milk, stirring to combine.
Bring to a low boil, then remove from heat and stir in basil.
Pour mixture over salmon. Bake, uncovered, for 10-20 minutes or until salmon flakes easily with a fork.