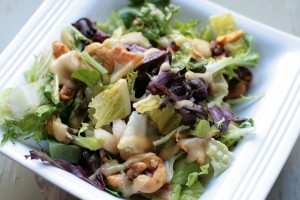 My sister has been making this salad for many years. I look forward to it every time she brings it to family gatherings. The cashews have a nice curried flavor with a bit of a kick. The sweet, crunch grapes and bacon offer the perfect sweet and salty balance. My sister always doubles the recipe so we can have leftovers with any remaining protein we have to eat the next day. This is definitely one of my favorite salads!
Adapted from allrecipes.com.
Curried Cashew, Grape, and Pear Salad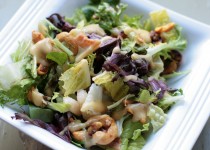 Prep Time:

30 minutes

Cook time:

15 minutes

Yield:

6 servings

Allergens: Nuts
Ingredients:
Preparation:
Toast cashews in a large, dry skillet over medium-high heat for about 5 minutes or until nicely toasted. Transfer to a dish to cool.
Cook bacon in the same pan until crispy. Remove from pan and set on paper towels to drain. Once cooled, chop into small pieces.
Remove grease from pan with a paper towel.
Combine butter, rosemary, curry powder, coconut sugar, salt, cayenne, and toasted cashews in a medium bowl. Set aside.
In a small bowl, combine vinegar, mustard, and honey. Slowly add olive oil, whisking constantly to combine. Season with salt and pepper.
To serve, combine salad ingredients in a large bowl. Drizzle with dressing and toss to combine. Sprinkle with curried cashews. Divide among salad bowls or serve family style.