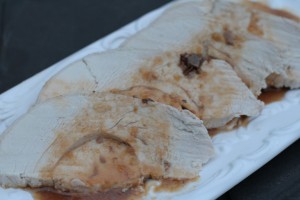 Last year for Thanksgiving, I made a gravy that was pretty labor intensive and, although the flavor was really good, it didn't thicken as I anticipated. This year's Thanksgiving turkey will benefit from a gravy thickened by blending vegetables in a home-made chicken stock, then adding the pan drippings for extra flavor. I used only vegetables that would't change the color of the broth, but if color doesn't bother you, you could add carrots to this as well. This gravy is definitely not the same as a thick flour-based gravy, but the flavor is incredible.
Not sure how you're going to cook your turkey? I've been using this method for the past two years with great results: howtocookthanksgivingturkey.com.
Make-Ahead Gravy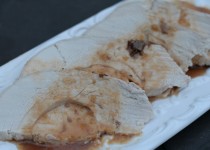 Feel free to use any fresh herbs you like in this recipe.
The flavor is definitely enhanced by using home-made chicken stock, but you can use store-bought organic chicken stock if you are in a hurry.
Prep Time:

15 minutes

Cook time:

30 minutes

Yield:

12 cups
Ingredients:
Preparation:
Combine onion, garlic, and chicken stock in a large stock pot. Cook over medium heat for about 30 minutes or until onion and garlic are clear.
Remove from heat and let cool slightly.
Remove herb sprigs and ladle contents of pan into a blender. Puree until smooth and thick. Store in an airtight glass container in the refrigerator overnight.
When bird is almost done, warm gravy in a large pan. I let my gravy simmer on the stovetop until the turkey was ready—probably 1-2 hours. When the bird is ready, combine with pan juices and season with salt and pepper.
Adapted from elenaspantry.com.