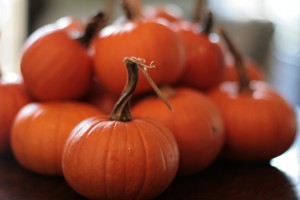 A Very Paleo Thanksgiving
If you haven't started your Thanksgiving preparations, now is the time! It's quite easy to stay paleo on holidays if you simply plan ahead. With a few minor modifications, your can indulge in your favorites like turkey and gravy, stuffing, and pumpkin pie.
I am a big planner, and so is my mom. Each year we get together weeks in advance and go over our Thanksgiving menu. We look at our notes from the previous year, make adjustments, and divvy up the responsibilities. My family is very good at keeping to the paleo guidelines when they bring their contributions, although on holidays, I do allow dairy so that I can enjoy my mom's Baked Whipped Potatoes and my sister's shrimp dip.
Our menu doesn't vary much. We find what we like and we stick to it! Here are some of the yummy foods we will be enjoying this Thanksgiving. I hope this will help you plan your holiday meal. Planning ahead not only helps in enjoying  a stress-free and healthy meal, but it leaves time to enjoy time with friends and family and to reflect on all we have to be thankful for. I am so thankful for my family, my friends, my faith, my home…and Paleo Table, my little labor of love. I so enjoy sharing recipes with you and hearing your great comments.
Thank you for your commitment to Paleo Table and to your health. Happy Thanksgiving!
Chorizo-Stuffed Dates Wrapped in Bacon
Curried Cashew, Grape, and Pear Salad
Paleo Sausage Stuffing
Baked Whipped Potatoes, Primal
Sweet Potato Puree
Make-Ahead Gravy
Pumpkin Pie