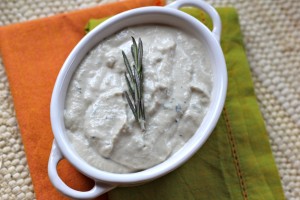 We recently visited my sister-in-law and her husband in Cleveland. Vanessa is an amazing cook and always puts together great meals when we visit. She and her husband Dave are also very good about letting us bring our own food and cook it for breakfast. The night we arrived was a weeknight and Vanessa had just arrived home from work. The house smelled amazing and the crock pot dish she had prepared was delicious! She ran through SOME of the ingredients: olives, tomatoes, spinach…"all things you eat." I knew there was white wine in the sauce, and that was okay with me. The sauce was SO good. Dave had three big helpings and I had two.
After dinner, I was looking at the recipe she used from Pinterest, when Vanessa piped up, "Don't look too close!"
And there it was: "two 11-ounce cans of condensed cream of chicken soup." Uugh. Still appreciative of the delicious meal, I committed myself that very minute to making a paleo version of the sodium and additive-laden soup so that I could recreate this yummy meal an others like it. My mom plans to use this for green bean casserole this Thanksgiving (more on that later).
So here it is. I used cashew cream as my thickener, and lots of healthy bone broth, organic chicken, and seasonings. This soup turned out great. I used a regular blender to puree the mixture into a thick soup for my sauce. You could try a stick blender or eliminate that step and have a less creamy soup with chunks of chicken. Give this a try and let me know what you think!
Paleo Cream of Chicken and Herb Soup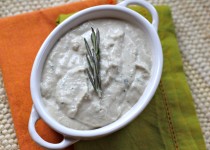 I used fresh rosemary and thyme for this recipe since that's what I had on hand. Feel free to substitute your favorite fresh or dried herbs.
*To soak raw cashews, place them in a medium glass bowl. Add water until they are just covered. Allow to soak for at least an hour or overnight (preferable). Drain the cashews in a colander and rinse with fresh water. Use all of the soaked cashews for this recipe. The soaked cashews will end up filling more than the original 2 cups they did when they were dry.
Prep Time:

01h 15min

Cook time:

45 minutes

Yield:

About 6 cups
Ingredients:
Preparation:
Place soaked and drained cashews and 1/2 cup water in a blender and process until they reach a creamy consistency. Add more water, if needed. This is what your cashew cream should look like:
Melt butter in a large soup pot over medium heat. Add leek and garlic and saute until tender, stirring occasionally, about 10 minutes. Add chicken and wine, stir, and continue cooking until liquid is evaporated, 3-5 minutes.
Increase heat to medium-high. Add chicken stock and stir. Bring mixture to a boil, then reduce heat to medium-low and simmer for 5 minutes.
Increase heat to medium, add cashew cream, rosemary, thyme, salt, and pepper. Stir to combine and simmer until thickened, about 10 minutes.
Remove from heat. Transfer to blender and puree until smooth or use an immersion blender to blend until the soup reaches your desired consistency.
Garnish with fresh rosemary or thyme sprigs.