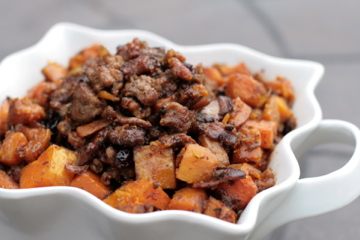 After kicking around several ideas, this is what I put together for our Thanksgiving stuffing. You can't really go wrong with the great combination of sweet and savory, plus traditional holiday seasonings. Move over, Bread…Butternut Squash is taking over! This is a great butternut squash dish that shouldn't be saved just for the holidays. It would go great with almost any main dish. And it's equally good the next day with eggs or mixed all together with the rest of your leftovers. (Just to clarify, we do not actually stuff this into the bird.

Paleo Sausage Stuffing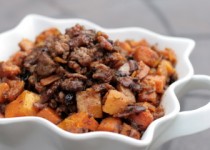 Make-ahead tip: Bake the squash the day before, until it is just beginning to turn soft. Cook the sausage, bacon, and onions the day before as well. The morning of your meal, continue with step 5. 
Prep Time:

20-30 minutes

Cook time:

45 minutes

Yield:

10-12 side servings

Allergens: Nuts
Ingredients:
Preparation:
Preheat oven to 350º F.
Add bacon to a large, deep skillet or pot and saute over medium heat until it renders some fat, 3-5 minutes. Add onion and  continue cooking until onion becomes clear and bacon is cooked through, about 15 minutes. Transfer onion mixture to a large bowl.
Add sausage to pan and cook over medium-high heat for about 10 minutes or until cooked through, breaking it up into bite-sized pieces with a spatula. Stir sausage in bowl with onion mixture.
While meat cooks, scoop coconut oil onto a large, rimmed baking sheet. Place baking sheet in oven for one minute or until oil is melted. Carefully remove baking sheet and toss squash with oil. Season with sage and thyme and toss to coat. Return baking sheet to oven and bake for 15 minutes or until squash is just tender. Remove from oven.
Add squash to sausage mixture and stir gently to combine. Transfer mixture back to skillet. Stir in walnuts, cranberries, and apples (optional) and continue cooking over medium heat for  about 5 minutes or until stuffing is warmed through and flavors are combined. Taste and season with salt and pepper, if desired.
NOTE: This dish can sit on the stovetop while you prepare the rest of your meal.