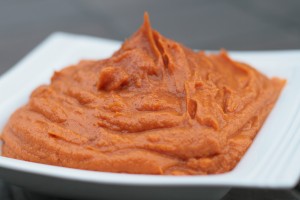 These sweet potatoes were a treat to celebrate my husband's birthday. They were a perfect balance to duck breast, but can really be enjoyed with any protein. I always make these for the holidays and anytime I have extra sweet potatoes on hand.
I roasted the potatoes the night before, scooped them out in the morning, and refrigerated them until ready to use. I then warmed them on the stovetop before putting them in the food processor. You can add more or less coconut milk until you find the consistency you like.
These are great topped with caramelized onions or all by themselves. I licked the bowl like it was cake batter–the cinnamon gives it just the right amount of sweetness–no brown sugar or marshmallows needed here! Enjoy!
Sweet Potato Puree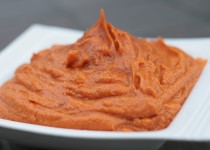 To make this vegan, leave out the butter and adjust the level of coconut milk.
Prep Time:

15 minutes

Cook time:

45-60 minutes

Yield:

4-6 servings
Ingredients:
Preparation:
Preheat oven to 375 degrees F.
Perforate sweet potatoes several times with a fork and coat lightly with coconut oil.
Bake for 45-60 minutes or until very soft.
Cut potatoes in half and scoop sweet potato flesh out of skin. Discard skin and place flesh in bowl of food processor.
Add ghee or butter and coconut milk to hot potatoes and process until smooth.
Add cinnamon and salt to taste. Pulse to combine.
NOTE: This dish can be made in advance and warmed just prior to serving.
To serve, scoop a generous portion on each plate and top with caramelized onions, if desired.