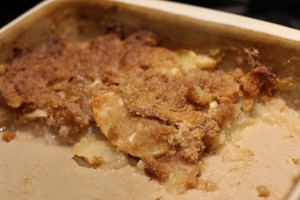 This apple crisp tastes a little too good to be true. Sweetened with just apple juice and honey, it is amazing how deliciously sweet it is. After my first bite, I thought, "Why in the heck do people add sugar to their apple pies and crisps?" It is SO not needed! This apple crisp is gooey and crunchy and sweet and warm…and it's even good without vanilla ice cream on top! Give this a try. You won't be disappointed.
Not a fan of apples? Try it with pears, peaches, or mixed berries instead.
Oh, and apologies for the lame photo. My mom and brother were over for dinner and I didn't want to make them wait for me to take photos. And the leftovers were gone before I could get a good shot. I guess I'll have to make it again soon so I can get a prettier picture!
Apple Crisp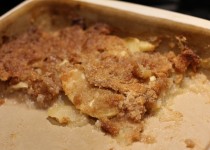 I used a combination of Granny Smith, Honeycrisp, and Pink Lady apples. Choose whatever variety you love and is in season.
Ingredients:
Preparation:
Preheat oven to 350°F.

Prepare apples and set aside.

Combine remaining filling ingredients in a large bowl and whisk to combine.

Add apples to the mixture and toss gently to combine. Transfer to the baking dish.

Prepare topping by mixing all ingredients in a medium bowl until mixture appears coarse and crumbly. Stir well to ensure ingredients are evenly distributed.

Sprinkle topping evenly over filling. 

Cover baking dish with foil and bake for 45 minutes.

Remove foil and bake an additional 5-10 minutes or until filling is bubbly and topping is golden brown.

Cool for 30 minutes. Serve warm.
Adapted from The Gluten Free Almond Flour Cookbook, Elana Amsterdam.