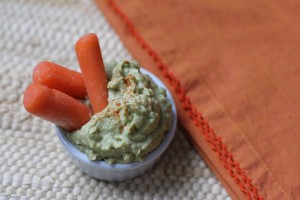 The football playoffs are today and we are experiencing one of the snowiest and coldest winters in recent history here in Chicago. Weather like this, when you're stuck in the house, is great for trying out new recipes.
This recipe for Avocado Dip with Carrots Sticks literally comes together in about 5 minutes and serves as a tasty little game-time appetizer. Whenever I see the words "avocado dip," I translate it as guacamole, but the tahini and cumin in this dish definitely make it  taste like traditional hummus.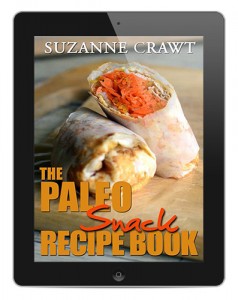 The recipe is from The Paleo Snack Recipe Book, written by Suzanne Crawt. This book offers 31 snack recipes categorized as movie snacks, travel snacks, pre- and post-workout snacks, etc. Some of my favorites include:
Pineapple, Bacon and Date Boats
Sausage Roll-Ups, and
Reuben Wraps
In addition, for each category, Suzanne offers a large variety of simple paleo snack suggestions that don't require any recipes at all.
If you are looking for some recipe inspiration, or some help in other areas of your life like natural beauty care, fertility and motherhood, or doing your own paleo cleanse, check out the Harvest Your Health e-book bundle. Until January 6, you can purchase 52 e-books plus 23 discounts and 10 other amazing offers—all for only $39. There's also a chance to win $5,000 in additional prizes! For more details, click the button below.

 As a Harvest Your Health sale affiliate, I will receive a commission from all sales made through the Paleo Table link.
Avocado Dip with Carrot Sticks AKA Easy Avocado Hummus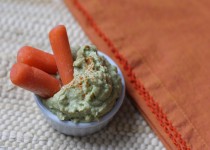 I added a dash of cayenne pepper, but you could leave it out for a milder flavor.
Ingredients:
Preparation:
Scoop the avocado flesh into a small bowl. Add lemon juice, tahini, garlic, cumin, and cayenne (if using). Stir well to combine.
NOTE: You could also mix the ingredients in a food processor. 

Transfer to a small serving bowl and sprinkle with paprika. Serve with carrots.