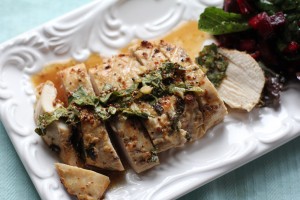 I had to buy freshly squeezed lime juice from the grocery store juicer the other day when the store was out of limes. So now I've got one quart of lime juice for a recipe that required two teaspoons. Time to make some lime recipes, eh?
This chicken is amazing! The gentle spiciness of the basil tempers the tartness of the lime juice. It would be a perfect dish for a summer BBQ, but we thoroughly enjoyed it in the heart of the Chicago winter. The marinade is delicious and serves double duty as a sauce. You don't need much, but feel free to double the marinade recipe if you like things saucy!
The first time I made this chicken, I marinated it for about 5 hours and it was great. The second time, I marinated it overnight and it seemed even more flavorful. But even if you only have an hour or two to marinate it, this recipe is so worth it! The marinade would also be awesome on fish or steak, and would be yummy on kabobs, too.
The chicken cooked perfectly in the broiler, but I anticipate making this one on the grill in the summer. But since it's winter here, I want to share with you one of my favorite cooking tools, the water broiler! I have no affiliation with this company, but I've had their water broiler for several years now and it has literally changed the way I cook! No more smokey mess when broiling encourages me to broil more. This is especially handy in bad weather when you really want to grill! And it's super easy to clean, too.
Give this recipe a try and let me know what you think. Enjoy!
Basil-Lime Chicken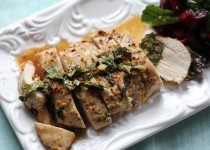 Prep Time:

60+ minutes

Cook time:

15 minutes

Yield:

4 servings
Ingredients:
Preparation:
Combine marinade ingredients in a large glass container with a lid.
NOTE: I love my Snapware Glasslock containers for this purpose, but you could also use a resealable plastic bag.
Transfer about 1/4 of the marinade to a separate bowl and set aside.
Season chicken with salt and pepper. Place in marinade and turn a couple of times  to coat. Cover and refrigerate overnight or until you are ready to eat. Shake the chicken occasionally to ensure the marinade reaches all parts.
If broiling, preheat the broiler. Set the chicken on a broiler pan and broil for about 7 minutes on each side or until chicken is cooked through. Otherwise, grill or saute chicken until cooked through.
Slice chicken and arrange on plate. Drizzle with reserved marinade.