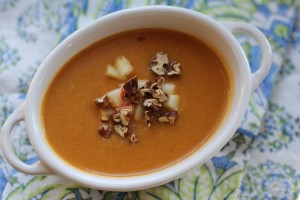 Here is another yummy soup recipe adapted from the Winter Soups cookbook. It is a great example of how to easily adapt a recipe that calls for dairy.  The original recipe uses cream. I simply subbed coconut milk, although almond milk would also work. I love the sweetness of an apple or pear garnish with root vegetables, and I always love the crunch of a few nuts. For me, this soup was perfect garnished with toasted pecans and chopped apples, but you could garnish with Paleo Sour Cream and parsley, if you desire. I could also see adding a touch of cinnamon or cumin for some additional depth. This soup was super easy to make and was SO comforting and warming as we continue to enjoy record-breaking low temperatures here in Chicago.
Are you ready for some soup? You can find this original recipe, shared by Kristin of rethinksimple.com, in the Winter Soups cookbook, on sale until February 4 for only $3.98 (after that, book will retail for $9.98). I was in the checkout aisle yesterday and saw a food magazine that was featuring soups this month. The magazine retailed for almost $15, making this cookbook an even better deal!
Click here for more information: Winter Soups E-book
Or here to purchase the book now:

Carrot and Ginger Soup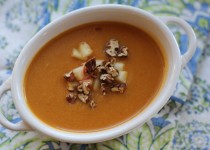 Prep Time:

60 minutes

Yield:

4-6 servings
Ingredients:
Preparation:
In a medium stock pot, warm coconut oil over medium heat. Saute onions for about 8 minutes or until they become translucent. Add garlic and ginger and saute until fragrant, about 1 minute.

Add carrots and broth, cover, and heat over medium-high heat until it comes to a boil, about 5 minutes.

Uncover, reduce heat to medium low, and simmer for 20-30 minutes or until carrots are soft.

Let cool 15 minutes in the pan, then use an immersion blender to blend until smooth.
NOTE: You can also blend the soup in a blender or food processor (in batches, if needed). 

Add coconut milk, salt, and pepper, and stir to combine.

Rewarm to your desired temperature.

Garnish with diced apples and roasted pecans.