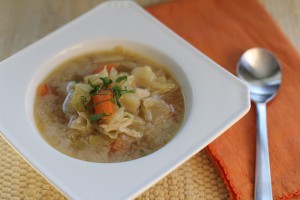 This soup recipe was created just for me to make. Well, really it wasn't, but when I looked at the recipe, I realized I had all of the ingredients handy, AND that it wouldn't take long to make—AND that it looked awesome. A perfect combo!
Lately, I have been throwing the bones from our Amish rotisserie chickens into the crockpot right away, filling it with filtered water, and adding whatever veggie scraps and fresh herbs I have on hand. I also throw in a couple of chicken feet for the collagen. (They aren't so bad to work with out of the freezer.) I keep the stock going for 48 hours and the results are unbelievable! I used some of that stock for this recipe and it was delicious.
This recipe, from Christy at Whole Foods on a Budget, is one of 52 recipes featured in the Winter Soups e-cookbook, on sale for just $3.97 until February 4.
Click here for the details: Winter Soups Community Cookbook
Coconut Chicken Soup with Cabbage and Carrots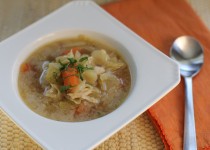 Prep Time:

5 minutes

Cook time:

30-40 minutes

Yield:

4-6 servings
Ingredients:
Preparation:
Prepare vegetables. Chop cabbage into 1/2-inch dice. Clean and trim carrots and slice diagonally into 1/2-inch pieces.
Warm oil in a large stock pot over medium-high heat. Add cabbage and saute for about 10 minutes, stirring occasionally until wilted.
Add carrots and continue to saute for 2-3 minutes.
Add chicken stock, increase heat, and bring to a boil.
Reduce heat, cover, and simmer for 15 minutes or until carrots are just barely fork tender.
Add chicken, coconut milk, and seasonings. Stir to combine and cook for an additional 5 minutes or until heated through.