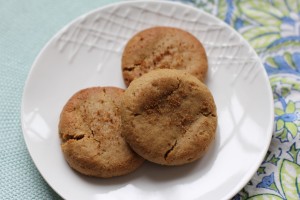 When I saw the original recipe for these cookies on Pinterest, I thought it had to be too good to be true. A delicious ginger cookie recipe with NO eggs! Whoo hoo! It IS true! These cookies were a cinch to make, but you have to exercise a little patience while the batter cools in the refrigerator. As with any molasses cookie, this batter is sticky. To flatten the dough balls, I put a piece of wax paper over cookies and flattened them with a fork.
The consistency of these cookies is soft and gooey, and the fresh ginger gives them a little bit of a kick. Give this recipe a try and let me know what you think!
Ginger Cookies (grain-, dairy-, and egg-free)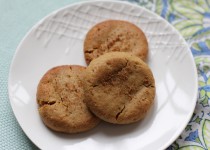 Prep Time:

40 minutes

Cook time:

10 minutes

Yield:

10-12 cookies
Ingredients:
Preparation:
Place ginger in the bowl of a food processor and process until finely grated.
Add all remaining ingredients, except for the coconut sugar, to the ginger. Process until a sticky dough forms and begins to ball up.
Transfer dough to a sheet of parchment or wax paper and place in the refrigerator for at least 30 minutes.
Preheat oven to 350°F.
When dough is firm, scoop  into tablespoon-sized portions and use the palms of your hands to roll into 10-12 balls.
Place them 1-2 inches apart on a parchment-lined baking sheet. Sprinkle with coconut sugar, if desired.
Bake for 10-12 minutes or until the edges are nicely browned.
Great when served warm.
Adapted from savorylotus.com.