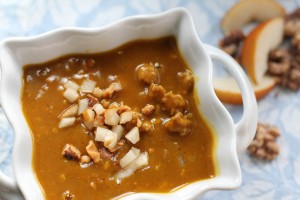 This soup is so perfect for a cool fall evening or as a warmer upper for a bone-chilling winter night. I don't know how it feels in your part of the world, but in my part of the world, it's COLD! The soup is very quick to make, and, after step 4, you can transfer the soup into a crock pot and keep it on low until you're ready to eat. This soup scored high marks with Dave. I believe he said it was "amazingly delicious"! I have to agree. The flavors are awesome together and the sausage makes it hearty enough for a light supper. If you need more, just add a salad or veggie side.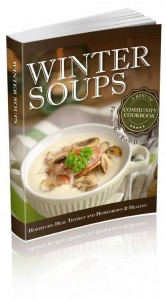 I'm so proud to have this recipe featured in the new Winter Soups Community Cookbook! This e-book features 52 amazing soup recipes, including 30 that are Paleo, 6 that are Primal, and many others that are super easy to adapt.
It's on sale until February 4 at the special price of $3.97. After that, the e-book will retail for $9.97. Check out the details here: Winter Soups

Pumpkin Sausage Soup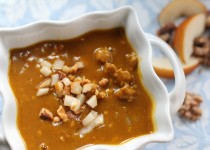 Prep Time:

10 minutes

Cook time:

50 minutes

Yield:

6 servings
Ingredients:
Preparation:
Saute sausage in a large stock pot over medium heat for 3 minutes. Add onion and continue to saute, stirring occasionally until sausage is just cooked through and onion becomes clear, 10-15 minutes. Add garlic for the last 5 minutes of cooking time.
Carefully remove all but 1 Tbsp oil from the pan.
Add pumpkin and stock to pan. Season with salt and pepper. Stir in cinnamon and bay leaves. Bring soup to a boil, then reduce heat and simmer for 30 minutes.
Add coconut milk and stir to combine. Simmer an additional 5 minutes. At this point you can serve or transfer to a crock pot to keep warm until ready to serve.
NOTE: If the soup reduces too much, add more chicken stock to thin the broth.
To serve, ladle into soup bowls. Garnish with pears and walnuts.