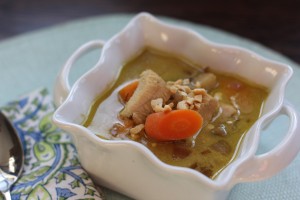 We are snowed in here with crazy low temperatures, so I thought Thai Green Curry would make a nice warm lunch today. The broth is very flavorful with its blend of green curry paste, coconut milk, and fish sauce. It was easy to make, although it took some simmer time to get it to the perfect consistency. It was definitely the ideal meal to warm us up!
This delicious recipe is adapted from Paleogasm, by Camille Macres, one of the many e-books available in the Harvest Your Health bundle sale. This bundle of books and discounts continues to amaze me as I work my way through its offerings. With 52 books and much more, the $39 price tag is astounding. Especially considering Camille's book alone retails for $30.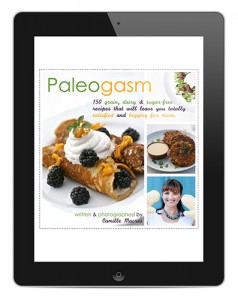 Paleogasm contains more than 100 pages of delicious recipes that range from staples like Roasted Spaghetti Squash and Mashed Faux-tatoes to her take on recipes such as Chicken Liver Pate and Roasted Cauliflower Hummus. I like my food spicy, so Camille's recipes for Indian-Spiced Cabbage and Szechuan Baby Eggplant really appeal to me.
In addition to a great variety of recipes, Camille starts the book with a handy outline of her recommended kitchen equipment, pantry items, and essentials. For those who need a bit of handholding, she also includes a handy starter guide and her own detailed Paleo Eating 101 Program.
At 184 pages, this book in print would be quite hefty. Fortunately, you can fit the whole e-book on your e-reader, iPad, laptop, or smartphone with no problem. Each book is available in PDF form for you to download at your convenience. If you are interested in purchasing this book as part of the Harvest Your Health bundle, click below for details. And while you're there, be sure to sign up for the giveaway worth $5,000! The sale ends today, so don't wait too long!

As a Harvest Your Health sale affiliate, I will receive a commission from all sales made through the Paleo Table link.
Thai Green Curry
I garnished this with chopped cashews.
Prep Time:

15 minutes

Cook time:

45 minutes

Yield:

4 servings
Ingredients:
Preparation:
Rinse and pat chicken breasts dry. Season liberally with salt and pepper.
In a small bowl, whisk together coconut milk, curry, lime juice, honey, and fish sauce. Set aside.
Heat a large skillet over medium heat. Melt coconut oil in the pan and then add chicken breasts. Cook for about 5 minutes on each side or until golden brown. Chicken doesn't have to be cooked through. Remove chicken from pan and set aside.
Add veggies to the pan, season with salt and pepper, and saute for about 7 minutes or until browned. Add a little more oil, if needed.
Add chicken stock to the pan with the veggies, cover, and reduce heat to medium low.
Cut chicken into bite-sized pieces. Add chicken and curry sauce to the pan, stir, and simmer until the chicken is cooked through and veggies are tender, about 10 minutes.
Remove cover and continue to simmer for about 10-15 minutes or until broth reaches your desired consistency.
Remove from heat, stir in cilantro, and serve with cauliflower rice.