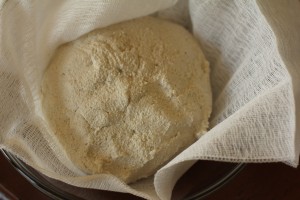 This cheese (or non-dairy cheese alternative, to be more precise) is the magic ingredient that creates the beautiful, creamy texture of my Eggplant Strata. It is super easy to make and really tastes like cheese. No, really. It does.
Does it melt like cheese? No. But it is creamy and delicious. I've used to as a spread, a veggie dip, on a sweet potato, and in another recipe as a replacement for cream cheese. Each time, I was very happy with the flavor and texture. The key to the tartness of this cheese is letting it "ripen" at room temperature with the help of a bit of probiotic. I used Trace Minerals Probiotic 55 Billion capsules. Try to get a capsule without any junk in it.
I've seen a lot of recipes for nut cheese and this one is one of the simplest. Three ingredients and an overnight rest and you are good to go. Plus it's full of probiotics. Do plan ahead though, since the cheese needs 12-16 hours to ripen. I have even let it go 24 hours with great results.
The first time I made this, I tried to puree it in my blender and it didn't work well at all. I now use my food processor. I would like to be able to get the consistency a little smoother, but as is, it still totally works for me. It's not as creamy as cream cheese, but it can still fill in for it in recipes. This cheese would be perfect in a Paleo lasagna or creamy sauce. Try it in my Eggplant Strata. You'll love it!
Cashew Ricotta Cheese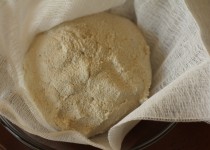 I like to add garlic and herbs to flavor this cheese, but the simplest additions I've made are about 2 Tbsp of lemon juice and a little bit of salt. It really enhances the cheesy flavor.
*Note: Let cashews soak for a minimum of 4 hours. I usually let mine soak overnight. Simply place cashews in a large bowl. Cover with water to about one inch over the cashews and let soak at room temperature. When they are ready, rinse in a mesh colander with fresh water.
Ingredients:
Preparation:
Process cashews and 1/4 cup of water in a food processor until smooth. This may take a couple of minutes, so be patient. If mixture is too thick, add more water, a tablespoon at a time, until it reaches your desired consistency.
Sprinkle the probiotic powder from the capsules into the cashew mixture and process until combined. (Discard the capsule shells.)
Line a mesh colander with a double layer of cheesecloth. Place the colander in a bowl.
Form the cashew mixture into a ball and place it in the cheesecloth. Wrap the cheesecloth over the cheese and the drape with a towel.
Place in a warm location. I put mine on a shelf in my pantry, which stays quite warm if I close the door. You could also put it in the oven with the light on, on top of the refrigerator, or in a dehydrator.
Let the cheese ferment for 12-16 hours or until it reaches your desired degree of tartness. The length of the fermentation will also depend on whether it is at a good temperature. If it is too cool, it will take a bit longer. It will take a shorter time in an ideal environment.
Transfer to an airtight container and store in the refrigerator until ready to use. Keeps for 3-4 days.
Adapted from urbanposer.blogspot.com.