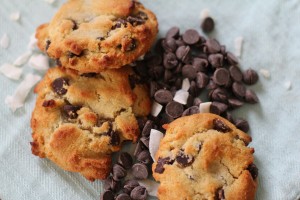 From time-to-time I come across a recipe that is just perfect. This is one of them. Although I've tried some great paleo chocolate chip cookies before, these cookies really stand out. They are chewy, sweet, and delicious. I came across the recipe on Pinterest, complements of Clark, a friend of  thebitesizedbaker.com. Give these cookies a try—you won't be disappointed!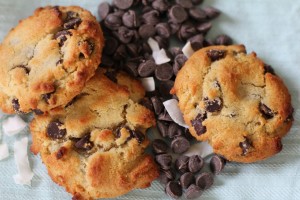 These cookies are best stored in the refrigerator. Enjoy!
Chewy Paleo Chocolate Chip Cookies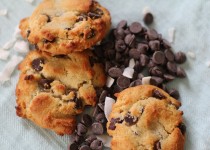 Ingredients:
Preparation:
Preheat oven to 375°F.
Line two baking sheets with parchment paper and set aside.
Combine dry ingredients in a large mixing bowl, stirring with a spoon or whisk to integrate the ingredients and break up any chunks.
Whisk wet ingredients together in a medium bowl.
Pour wet ingredients into dry ingredients and stir until all ingredients are combined. Fold in chocolate chips, or the ingredient of your choice.
Refrigerate dough for 15-30 minutes or until firm.
Scoop onto parchment paper about 1 inch apart and bake for 8-10 minutes or until the tops are golden brown. Watch carefully so that the bottoms don't burn.
Transfer to a cooling rack and cool until they reach room temperature, then place cookies in an airtight container and store in the refrigerator.