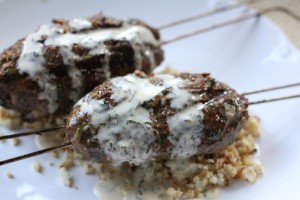 This sauce is super fast to put together if you use a food processor, but you can also make it pretty quickly by hand.
Plan ahead by placing a can of coconut milk in the refrigerator a day in advance. When you are ready to make the raita, whisk the milk solids and liquid together to form a thick milk. You could also use a blender or food processor to combine it.
The flavor of this sauce is a great complement to lamb. I have used it with both Lamb Kofta Kebobs and Moroccan-Style Lamb Meatballs.  It would also be great as a dipping sauce for some spicy chicken kabobs. It's cool, mild flavor would perfectly temper the spicy heat. Enjoy!


Ingredients:
Preparation:
Pulse cucumber, cilantro, and garlic in the bowl of a food processor until finely chopped.

Add remaining ingredients and pulse until well combined.
NOTE: Ingredients can also be chopped by hand and combined in a bowl.