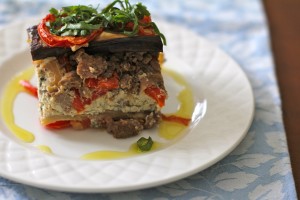 I am super excited to share this recipe with you! If you follow me on social media, you know that I've been fermenting this week for the first time. My kombucha is still brewing, but my cashew ricotta is ready to roll! It was super easy to make and adds that cheesy creaminess I miss sometimes in paleo foods. It is also rich in healthy probiotics. If you are wondering how cashews can taste like cheese, I must say that I, too, was skeptical at first. But then I tried it to make my cheesecake bites and I was hooked. This is my first time fermenting the cashew cheese. The results were amazing. I've posted the instructions here so you can make your own: Cashew Ricotta. I really can't say enough good things about this cheese. It really steps this recipe up a notch in by book. Keep in mind that the cheese needs a day to ferment, so plan 1-2 days in advance to be sure it's ready.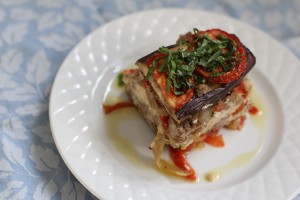 Another important element of this strata is the eggplant. Be sure to sweat your eggplant for this dish or it will get pretty soggy. Sweating it simply means sprinkling it generously with salt and setting it on an absorbent surface to let some of the moisture release. Make this your first step when preparing the strata so that the eggplant has plenty of time. I actually did this step a day in advance. I let the eggplant sweat for several hours, then placed it in an airtight container with paper towels in between to soak up any excess moisture. You can do this if you have time.
Use fresh tomatoes, like I did, or substitute a can of diced tomatoes. And take note of the order of the layers, because when I made this, I totally messed up the layering and had to make some quick fixes. Any way you layer it though, it's delicious comfort food at its finest.
The meal is very easy to make, but it takes some time to put together each of the layers. Plan ahead and make this on the weekend. The whole dish can be prepared 1-2 days in advance and stored in the refrigerator. Just don't drizzle the olive oil on top until you are ready to cook it.
Eggplant Strata with Sausage and Cashew Ricotta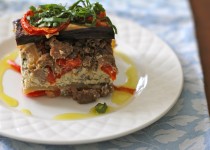 Prep Time:

60 minutes

Cook time:

60 minutes

Yield:

6-8 servings

Allergens: Nightshades, Nuts
Ingredients:
Preparation:
Preheat oven to 350°F.
Sprinkle salt over both sides of eggplant and set on paper towels in a single layer.
Brown sausage and ground beef together in a large skillet over medium-high heat until cooked through, about 15 minutes.
Using a slotted spoon, transfer the meat to a bowl lined with paper towels and set aside.
Wipe the oil from the pan melt coconut oil and saute onions and peppers over medium heat for 15 minutes or until onions are translucent and peppers are very tender. Remove and set aside.
In a deep 9x9 pan, layer the ingredients as follows:

1/2 Peppers and Onions
1/3 Tomatoes
1/2 Meat
1/2 Eggplant
1/2 Peppers and Onions
1/3 Tomatoes
1/2 Meat
1/2 Eggplant
1/3 Tomatoes

Place parchment or waxed paper on top and use your hands to compress the layers.
Drizzle with 3 Tbsp olive oil.
Bake for 60 minutes or until tomatoes are nicely browned.
Sprinkle basil evenly over the top.
Serve warm.