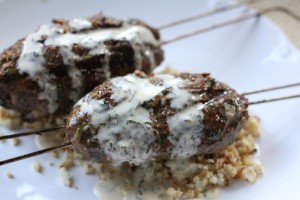 I really like lamb and am lucky enough to have a good source for it through Wallace Farms. I've had a busy week, and a busy week usually translates into crockpot meals, meals with rotisserie chicken as the protein, and meals based around ground meat.
Kofta Kebabs, popular in Turkey, are simply spiced, ground meat cooked on skewers. When you make them, you really need to be sure that the meat is going to stay on the stick. And believe me, I've had a few failures before I figured out what works for me.
Since I am staying away from eggs these days, I needed to ensure that my meat would bind together without them. Lamb is pretty lean, so I decided to add grassfed ground beef to the lamb to increase the fat. It worked like a charm! I did handle them carefully, but these oblong patties stayed on my skewers with no problem!
Here's my little kitchen tip for today: I wear latex-free gloves, bought in bulk at Costco, when I mix ground meat. It keeps my hands and nails clean and allows me to really dig in and mix the ingredients thoroughly with my hands.
Since we are in the dead of winter here in Chicago, I used my water broiler to broil the kebobs. In warmer weather, I suppose we could cook these on the grill, but I would still probably want to cook them in a grilling basket just in case the meat starts to separate when you flip the kabobs.
These are great served with just a squeeze of lemon, but Cucumber Raita offers a perfect balance to the spiciness of the meat. Complete your meal with some cauliflower rice and you've got one great dinner. Enjoy!
Last Chance for Winter Soups Cookbook at Sale Price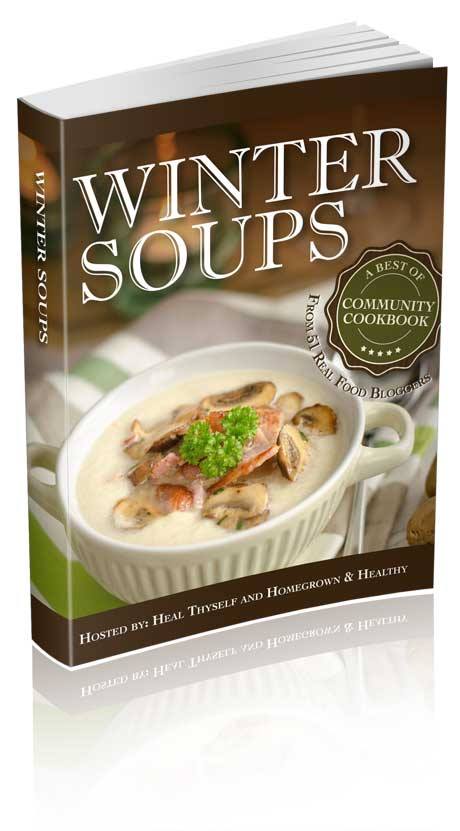 I also wanted to remind you that today is the last day to purchase the Winter Soups cookbook at the discounted price of $3.97. Thanks so much to all of you who have already purchased the cookbook. I've been enjoying several of the recipes during this frigid Chicago winter. The e-book will retail for $9.97 starting tomorrow, so get it while you can. Click here for the details: Winter Soup Cookbook
OR
Click the button below to buy it now. Don't forget to enter the code WINTERSALE to purchase the book at the sale price.

Kofta Kebobs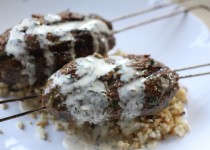 Prep Time:

20 minutes

Cook time:

12 minutes

Yield:

4-6 servings
Ingredients:
Preparation:
Combine the ground meats in a large bowl.

Pulse garlic, onion, and parsley in a food processor until finely chopped. (You can also chop them by hand.) Transfer to the large bowl.

Combine spices in a small bowl, then sprinkle them over the ground meat.

Use your hands or a wooden spoon to thoroughly combine the mixture.

Divide mixture into 6 equal portions, then use your hands to form each portion into an oblong patty. Refrigerate patties for 30 minutes.

Carefully insert skewers lengthwise through the center of each patty.

Preheat broiler.

Broil kabobs about 3-4 inches from the heating element for 7 minutes, then carefully flip and broil for an additional 5 minutes or until done.

Serve with a squeeze of lemon, some cucumber raita, and cauliflower rice.