This is my latest addiction. I have to be really careful not to eat too much. This almond butter is reminiscent of the infamous chocolate hazelnut butter that my children are still trying to convince me to let them have in their lunches. "But it's healthy," they plead. Uh, not so much.
This nut butter is "healthier." It is sweetened with just a little bit of honey and some dark chocolate. I used 72 percent dark chocolate, but you could even try 85 or 90 percent to improve the nutritional profile a little more. I've made this with almonds that I roasted at home and with almonds I soaked and dehydrated. I prefer the dehydrated crispy nuts since they offer a smoother flavor. And speaking of flavor…this really tastes like chocolate frosting to me. With that in mind, please consider this in the treat category. It's great as a dip for apples or strawberries, although when my friend Nicki recently asked me what I ate it with, I simply replied, "A spoon." I intentionally use a small condiment spoon when I eat this so that, even with several spoonfuls, I don't go too overboard.
To get this to the right consistency, you'll need a food processor or blender. As I state below, you process the nuts for 5 minutes, stop and scrape the sides, then process for an additional 4-6 minutes until the almond butter is smooth and creamy (I'm trying to avoid using the word "runny," but that's really the consistency you want.)
I have yet to try this with other nuts, but I assume hazelnuts would be awesome (although more expensive), as would macadamia nuts and cashews. I'll update this post after I do a little more experimenting. I also think it would taste great with a dash of cinnamon or cayenne. Mmmm.
Give this delicious treat a try and let me know what you think!
Dark Chocolate Almond Butter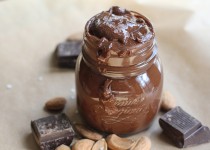 Want to make this vegan? Simply swap the honey for pure maple syrup.
Prep Time:

15-20 minutes

Yield:

about 1 1/2 cups

Allergens: Nuts
Ingredients:
Preparation:
Place almonds in the bowl of a food processor and process for 5 minutes. Stop the processor, as needed, and scrape down the sides. Continue processing for 4-6 more minutes or until the nut butter is very smooth and creamy.
NOTE: If you scoop it with a spoon, it should drip off easily. This can sometimes take 20-30 minutes total. Be patient.
While the almonds process, melt the chocolate in a double boiler OR fill a medium saucepan with about one inch of water and bring to a boil. Set a heat-proof bowl in the pan so that it rests on the rim, forming a double boiler. Place the chocolate pieces in the bowl and heat until melted.
Stir honey and coconut oil into the warm chocolate to melt it.
Add the chocolate mixture, vanilla, and sea salt to the nut butter and process until well combined.
Transfer to an airtight container and store in a cool, dark place.
Adapted from ambitiouskitchen.com.