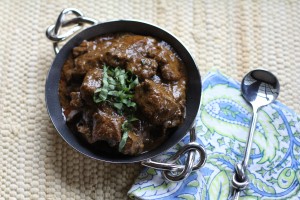 Although we very rarely order takeout food anymore, when we do, Indian is one of our favorites. Since starting our Paleo lifestyle a few years ago, I've found that cooking at home offers so much more control over ingredients and flavors. Rogan Josh is a great example of how easy it is to make great takeout-style food at home. It is quite simple to create, you just need to allow enough time for the lamb to braise and become tender.
For this recipe, I use a pre-mixed Rogan Josh spice blend and pre-cut lamb stew meat to make things come together quickly. I was excited when a Savory Spice Shop opened up recently within walking distance from our home. They have an awesome variety of freshly mixed spices. Their Rogan Josh blend  includes: paprika, garlic, ginger, coriander, cumin, turmeric, cayenne, Saigon cinnamon, cardamom, cloves, and spices. It works great in this dish. I've also had excellent results using an organic blend I ordered from Amazon: Ajika Organic Roganjosh Spice Blend. If you have a well-stocked spice cabinet and want to make your own spice blend, Melissa Joulwan has a great recipe here on her site, The Clothes Make the Girl.
Start this dish at least two hours early to give the lamb ample time to simmer to tender perfection. This is a great dish to make on a cold Sunday afternoon so you can enjoy the delicious smell throughout your home.
Paleo Rogan Josh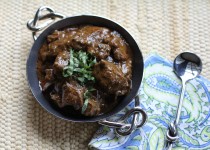 Prep Time:

30 minutes

Cook time:

02h 00min

Yield:

3-4 servings
Ingredients:
Preparation:
Sprinkle meat generously with salt and pepper.
Heat oil in large saucepan or Dutch oven over medium-high heat. Add meat and brown well on all sides. Let the meat sit undisturbed for approximately 5 minutes before turning to ensure a nice brown crust.
When the meat is browned, add the chopped onion and cook until softened.
Add seasonings to the pan and stir until fragrant, about 30 seconds.
*NOTE: If using Savory Spice Shop seasoning blend, omit the cayenne or it will be REALLY spicy.
Add coconut milk and water to the pan. Mix well, turn the heat to high, and bring to a boil. Cover and reduce heat to a simmer. Let the meat braise in the coconut milk for about 1 - 1 1/2 hours; the longer you wait, the more tender the meat will be.
When meat is tender, remove the lid and let the sauce simmer until it thickens, about  30-60 more minutes. Serve with your favorite vegetable side. We like this with cauliflower rice and roasted carrots.
Adapted from The Clothes Make the Girl.