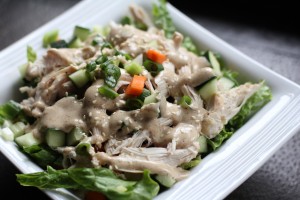 I was looking for a quick recipe to share with you as we mark the last day of the Primal Life Kit promotion. This was was quick, tasty, and just what my lunch salad needed today. The recipe is from Caveman Feast, a collaboration by the Civilized Caveman, George Bryant, and Fat-Burning Man, Abel James. I have had the privilege of meeting George a couple of years ago at the CrossFit Games and working with Abel on the Fat-Burning Chef Cookbook. Both of them are so kind and talented. Their book, Caveman Feast is a collaboration that includes a ton of recipes for beef, pork, poultry, and seafood entrees; a mouthful of a section titled Condiments, Sauces, Butters, Dressings, Rubs, and Blends; and a Grain-Free Goodies section that features 34 yummy treats. The whole book contains more that 200 recipes that follow the paleo guidelines.
This dressing is very versatile. You can use it over grilled veggies, as a satay sauce, or with cucumber noodles with some sesame seeds and green onions for a cold noodle salad. I used mine on a mixed salad of greens, carrots, cucumber, celery, rotisserie chicken, and green onions. Delicious!
I added water to the original recipe since the dressing is very thick. You can add more or less water to get it to your desired consistency.
I hope you enjoy this simple and tasty dressing!
Primal Life Kit
If you want to own this book and more, check out the Primal Life Kit. Available only until midnight tonight. Here's a brief summary of what you get for only $39 (a 97% savings). Click the button below for more details:
35 Paleo and Primal eCookbooks and Informational eBooks ($498 Value)
3 research papers by Dr. Loren Cordain ($15 Value)
1 Online Cooking Club subscription ($39 Value)
3 Fitness Programs ($67 Value)
2 Paleo Challenges ($44 Value)
2 Meal Plans ($69 Value)
2 Online Magazine Subscriptions ($36 Value)
1 Bonus Video about Eating Paleo on the Road
14 Discounts ($757+ Value)
TOTAL VALUE $1500+ for just $39!
All the ebooks are in pdf format, so you can read them on your computer or the e-reader of your choice. This $39 kit will give you all the tools you need to eat, cook, work out, and live Primally.

Note: I am an affiliate for this sale and will earn a commission if you purchase through my links. These commissions help to support the continued development of Paleo Table. 
Almond Dressing (Caveman Feast) and Last Call for Primal Life Kit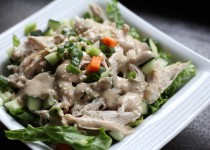 Prep Time:

5 minutes

Yield:

4 servings

Allergens: Nuts
Ingredients:
Preparation:
Combine  all  ingredients, except for water,  in  a  mixing  bowl.  Using  a  whisk,  mix  well  until  you  have  a  thick  dressing  consistency.
NOTE: I mixed my ingredients in a Magic Bullet for a smooth texture, then added 6 Tbsp of water to thin it out enough to spoon over my salad.
Serve over salad, grilled veggies, chicken or pork, cold cucumber noodles, or your favorite dish.