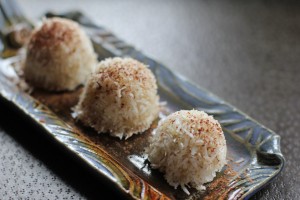 There's that word "balls" again. Although I always think it sounds funny to use the word in a recipe title, there's no doubt that many delicious treats—both sweet and savory—often come in the form of a ball. I'm excited to share another one of those delicious recipes with you, complements of Louise Hendon, from ancestralchef.com, in her e-book 30-Minute Paleo Desserts. This e-book is one of the MANY great offering of the Primal Life Kit. I am pleased to be an affiliate of this program for the second year running. It's an amazing line-up and definitely worth checking out here: Primal Life Kit 2014.
But on to the recipe. Whenever I start promoting a kit that contains recipes, I spend some time reviewing the books and selecting recipes that meet three criteria: 1) they contain ingredients I have on hand, 2) they look like something I could make without much fuss, and 3) they look amazing! This ingredients for these cookies are so simple, I literally whipped them up in about 5 minutes. I used my cookie scoop to form them into a flat-bottomed macaroon, and I really think banana macaroon might be a more descriptive name for this treat. I am also excited that these are egg-free since I am avoiding eggs these days.
The original recipe indicates that you can either bake these at a low temp or serve them chilled. I had my dehydrator handy so I decided to dehydrate them. You could definitely go with whatever option most appeals to you. If you eat only raw foods, the dehydrator or refrigerator should work for you. Oh, and if you're vegan, just sub maple syrup for the honey. Easy peasy.
The results after dehydrating are a delicate and subtly sweet macaroon that totally reminds me of the inside of a Mounds bar without all of that sickening sweetness. These are seriously delicious!
Give this recipe a try and let me know what you think. And don't forget to check out the Primal Life Kit by clicking the button below.
Coconut Banana Balls (Egg-Free Banana Macaroons)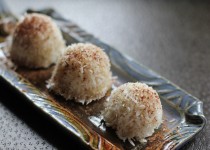 Prep Time:

10 minutes

Cook time:

0-60 minutes

Yield:

12-13 one-inch balls
Ingredients:
Preparation:
If baking, preheat oven to 250°F (120°C).

In a medium mixing bowl, mash banana well with a fork. 

Add remaining ingredients and mix well to incorporate all of the ingredients.

Use your hands or a cookie scoop to form small one-inch balls.

To eat them cool, refrigerate until firm.
OR
To eat them warm, bake at 250°F for 15 minutes or dehydrate at 115°F for an hour.

Sprinkle lightly with cacao powder, if desired.