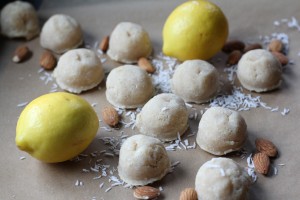 Wow! I finally got around to trying this cookie recipe that I pinned a while ago. I had a hard time believing that a raw cookie could be soft on the inside and firm on the outside. The pictures looked so amazing, I had to try for myself. Fortunately, I just got some organic Meyer lemons in this week's veggie box from Door to Door Organics. I've never had a Meyer lemon before, but I think they are supposed to have a milder (less tart) flavor than regular lemons. That may or may not have contributed to the deliciousness of these cookies. I'm sure regular lemons would be great, too.
This is also my first time using my dehydrator for cookies—but it won't be my last. Don't fear though, if you don't have a dehydrator, you can warm them in your oven at the lowest setting or you can even skip that part altogether and just pop them in the fridge. The texture won't be quite as meltaway, but the flavor can stand on its own.
Another awesome thing about these cookies is that they are not only grain-, dairy-, and refined sugar-free, they are also egg-free! These are also raw AND vegan (if you use maple syrup, like I did). So it's a great cookie for those with sensitivities and specific dietary requirements.
These cookies are simple to make and are truly melt-in-your-mouth wonderful! They ARE as good as they look. Give them a try and let me know what you think!
Lemon Macaroon Meltaways (Raw)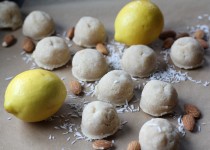 I used Meyer lemons for this recipe, but feel free to shake it up a bit by substituting your favorite citrus fruit. Lemon, lime, and orange meltaways all sound good to me!
Prep Time:

20 minutes

Cook time:

60-120 minutes

Yield:

20-24 cookies

Allergens: Nuts
Ingredients:
Preparation:
Place dry ingredients in the bowl of a food processor and pulse to combine.
In a small bowl, combine wet ingredients, except for coconut oil, with a whisk. Pour into food processor and process until well combined.
With processor running, slowly add coconut oil until dough forms.
Use a spoon or cookie scoop to form into about 20 one-inch balls.
Dehydrate at 105°F for about 2 hours or until the outside is a little dry and the inside melts in your mouth.
NOTE: If you don't have a dehydrator, you can try warming at your lowest oven setting, leaving the door cracked a bit, for about an hour. I have not tried this so I can't speak for the results. You can also choose to refrigerate them and eat them chilled. Either way, you can't go wrong!

Adapted from addictedtoveggies.com.