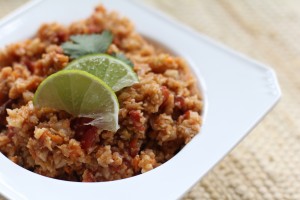 There's a Mexican restaurant close to our home that offers authentic Mexican food at really great prices. We recently found that is is one of the few places we can all agree on. When dining with Aly and her friend one night, Aly actually gave the Mexican rice a try. (She is always more inclined to try new things when her friends are eating them.) Well, she loved the rice and gobbled it all up in a heartbeat. She inspired me to create my own Mexican rice at home using cauliflower as the rice. I'm really happy with this recipe. Maybe next time her friend is over I'll make it so Aly will actually give it a try!
Enjoy this rice topped with taco meat, guacamole and salsa for a complete meal. (I'll be posting the Taco Bowl recipe soon.)
Mexican Cauliflower Rice
This recipe uses home-made Taco Seasoning from this recipe: Taco Salad.
Prep Time:

15 minutes

Cook time:

15 minutes

Yield:

4 servings
Ingredients:
Preparation:
Place onion, carrot, and garlic in a food processor and pulse until finely chopped.

Warm fat in a large skillet and add onion mixture. Saute over medium heat for 5 minutes or until onion is translucent.

In the meantime, pulse cauliflower in the food processor until it is a rice-like consistency. You may need to do this in batches.

Add the cauliflower, tomatoes, chicken stock, green chiles, and seasoning to the pan. Stir to combine. Bring to a boil, then reduce heat and simmer for 10-15 minutes or until cauliflower is tender.

Sprinkle with lime juice before serving.