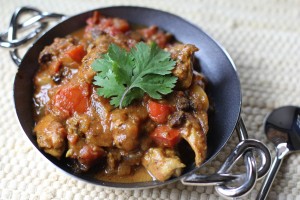 Do you make meals sometimes and think, "That's as good as (or better than) restaurant food!" That's what I thought after making this last night. The recipe is from Melissa Joulwan's book, Well Fed 2, a follow-up to the first highly-successful volume. If you've seen either of Melissa's books or even read her blog at theclothesmakethegirl.com, you know she is great at injecting fun into her recipes. I love that Well Fed 2 includes information on how to take a basic item, such as ground meat and transform it into many different delicious forms (like burgers, balls, and bangers). She has a detailed section on sauces and seasonings along with MANY very flexible recipes categorized into proteins, veggies and salads, and fruit.
This book is part of the Primal Life Kit. The entire kit is valued at $1500, but is available right now for only $39. Take a look here for more details:
I was excited to see that Taj Mahal Chicken met my criteria of using ingredients I had on hand, being easy to make, and looking yummy—and yummy it is! This dish has a mild flavor so don't be afraid to kick it up with a little dash of cayenne. I served it over spaghetti squash but it would also be great with cauliflower rice or sweet potatoes.
I've written this recipe verbatim from the book so you can get a flavor for Melissa's style. Give Taj Mahal Chicken a try and let me know what you think!
Taj Mahal Chicken (from Well Fed 2)
Feel free to substitute currants for the raisins. They work great in this recipe.
Throw in a dash of cayenne if you like things spicy.
Prep Time:

15 minutes

Cook time:

60 minutes

Yield:

2-4 servings
Ingredients:
Preparation:
Place the chicken in the freezer for 10 minutes, then cut it crosswise into 1/4-inch strips. Sprinkle the strips with salt and pepper. Heat a large, non-stick skillet over medium-high heat, about 3 minutes. Add 1/2 tablespoon coconut oil and allow it to melt. Add the chicken in a single layer and brown well on both sides, about 10 minutes. Cook in batches if you need to and remove the chicken to a bowl to catch the juices.
In the same pan, add the onions, bell pepper, and bay leaf. Sauté until the veggies are tender and beginning to brown, about 5-7 minutes. Season with salt and pepper, then add the garlic and stir until fragrant, about 30 seconds.
If the pan is looking dry, add 1⁄2 tablespoon coconut oil. Add the curry powder, thyme, and tomato paste. Stir to blend and fry about 1 minute, then add the raisins, tomatoes, apple sauce, and water. Stir to combine and bring to a boil. Return the chicken to the pan with any accumulated juices. Reduce the heat to simmer and cook, covered, 20-30 minutes until sauce thickens.
Add the coconut milk and stir to combine. Heat through, about 5 minutes, then sprinkle with chopped herbs.
You Know How You Can Do That?
You can use chicken breast or turkey in place of chicken thighs.  This is a spicy way to turn leftover Thanksgiving turkey into a welcome rerun, just skip the browning step, and add cubed or shredded poultry to the sauce along with the raisins.