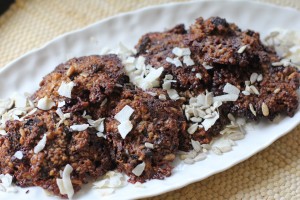 Do you love trail mix but find that you keep eating handful after handful of it until you know you've had WAY too much? I love that trail mix is so easy to make and to customize with your favorite nuts and seeds, dried fruit, and even chocolate. Well, this cookie takes trail mix to the next level. It's still easy to make, but the addition of honey and orange rind to the trail mix favorites of walnuts, sunflower seeds, cherries, and chocolate move this beyond your typical pack-and-go snack. In addition, I love how these cookies are flour and egg free, and that they spread out on the pan to form a crispy, delicate crust reminiscent of a lace cookie. I also like that they are nicely portioned so that you can have one or two and put the rest away for later (easier said than done).
This recipe is from the new CaveGirl Cuisine cookbook by Michelle Fagone (cavegirlcuisine.com). The directions are straight from her book so you can get a feel for Michelle's style. A substantial sample of her cookbook is included in the Primal Life Kit. It includes 46 recipes (there are 160 in the full version). Some of my favorites include:
Reuben Benedict
Paleo Honey Crunches Cereal
BBQ Stud Muffins
Bacon Jam
Apple-Spiced Caramel-Dipped Doughnuts
If you are interested in more details about this book and SO many other amazing e-books and discounts, you can find it all in the Primal Life Kit. It's only available for a few more days. The bundle is selling like crazy with many buyers thinking it's too good to be true. But it is true…and you can check it out right here. I am so happy to be an affiliate for this amazing set of e-books and other paleo/primal goodies.
Trail Mix Cookies (CaveGirl Cuisine)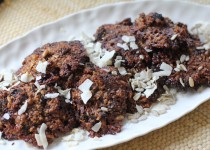 These cookies cook down very thin, almost like lace cookies. Make sure you really mix all of the ingredients well; otherwise you'll have pockets of honey bubbling out the sides of the cookies during the baking phase.
Prep Time:

50 (10 to prep and 40 to cool) minutes

Cook time:

10 minutes

Yield:

20 cookies
Ingredients:
Preparation:
Preheat oven to 350˚F.
Combine all ingredients so that the honey is well distributed. Line a baking sheet with parchment paper. Roll a tablespoon of cookie mix into a ball and place onto the baking sheet. Press down each ball. Leave about an inch between cookies. They will spread as they bake.
Bake 10 minutes. Cool for about 10 minutes, before transferring to a cooling rack. After transferring, cool for about another 30 minutes, to harden.
Enjoy!