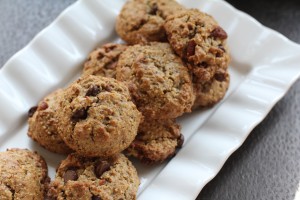 As you may know, I have not done many product reviews. My main focus is on providing you with great paleo recipes. But when Miss Paleo contacted me to review their cookies and brownies, I thought, "What the heck—I'll give it a go!" So here it is, my review of Miss Paleo chocolate chip cookie mix and pre-made brownies. Please note that I have no affiliation with Miss Paleo, although they did send me a complementary brownie and cookie mix for my review.
One of the most frequent concerns I hear about living a paleo lifestyle is that people don't have a lot of time to spend in the kitchen preparing food. Let's face it, paleo is a lifestyle that requires a little planning…and a little time. When you are able to take some shortcuts, like using rotisserie chicken or a packaged cookie or brownie mix, it can make life a little easier. Hopefully things will change at some point, but for now—at least in my neck of the woods—you can't just run to the grocery store and find a packaged Paleo mix on the baking shelves. But fortunately, these mixes are starting to become more widely available online.  And that's where you can find these yummy Miss Paleo treats!
Miss Paleo Brownies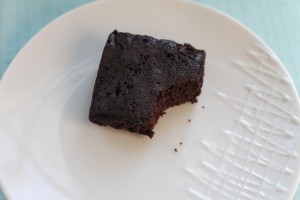 Rachel from Miss Paleo send me a pre-made brownie sample and when I opened it, I smelled the familiar scent of a paleo treat: coconut. And then I smelled the chocolate…yummy! After my first bite into this moist treat, it was clear that the folks at Miss Paleo know what they're doing. The brownie was moist and chewy, almost cake-like. It definitely has a nice balance of coconut and chocolate flavors and it went really well with my afternoon cup of tea. Would this brownie appeal to a non-paleo person? For sure. But only if they like coconut. Which I do. In fact, I love coconut. My children, however, do not. So this brownie was not for them. Dave, Alex, and Rob (of the WODHOPPER team) each got a tiny taste and thought it was great.
So what's in these brownies? Coconut sugar, almond meal, cocoa powder, eggs, and coconut oil. A short list of simple ingredients. The same ingredients I'd use in my own kitchen. Paleo convenience food doesn't get much better than that! Each brownie has 120 calories, 8 grams of fat, and 11 grams of sugar. The Miss Paleo site lists all of the nutritional facts if you want more details.
Miss Paleo Chocolate Chip Cookies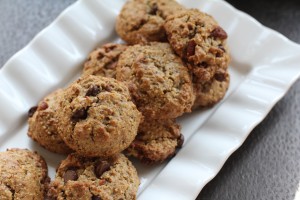 Now…let's move on to the COOKIES! I have to say in the treat category, cookies trump brownies for me. So imagine my excitement when I was able to mix up these cookies in less time than it took my oven to preheat! The basic mix allows you to either make plain cookies or add the ingredients of your choice. I decided to enhance my cookies with two of my faves: pecans and chocolate chips.
I honestly didn't know what to expect from a paleo baking mix. Many paleo cookie recipes I've tried (that haven't made it to Paleo Table) have been pretty dense and not all that enjoyable to eat. If I'm going to indulge in a treat, it better be worth it!
I'm happy to report that the Miss Paleo cookies are different. These actually taste like "regular" cookies. (I know you've heard that before, but this is TRUE.) They bake up crunchy on the outside, soft and chewy on the inside—with a texture much like an oatmeal cookie. The flavor is a bit nutty and they are very moist. I'd definitely consider these cookies addictive!
The cookies also contain just a short list of ingredients: almond flour, coconut sugar, dried maple powder, vanilla powder, baking soda, and sea salt. You simply add your own eggs and coconut oil, plus any enhancements such as chocolate chips, dried fruit, or chopped nuts. At 120 calories per cookie, these weigh in at 9 grams of fat and 4 grams of sugar each. Again, full nutritional information is listed on the Miss Paleo site.
If you are interested in trying Miss Paleo mixes for yourself, they offer bread and muffin mixes in addition to their cookie and brownie mixes. You can purchase individually or in bulk, and they even offer sugar-free mixes made with xylitol, if that's the way you roll. Check out the full delicious details on their site at misspaleomixes.com.
I hope this review was helpful. Have a happy and healthy day!