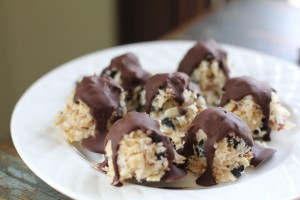 I love this recipe because you can mix it in a bowl. Since my food processor can stay in the pantry, I can make the truffles and still enjoy the quiet solitude of my summer mornings while the kids are asleep. It requires no special equipment and uses ingredients I usually have on hand. Almond Joy Truffles are a perfect snack that will satisfy your sweet tooth without too much guilt. To ensure the truffles set properly, be sure to let the coconut oil set in the refrigerator before forming the mixture into balls. Store them in the refrigerator after drizzling.
I hope you enjoy this yummy treat.
I have already eaten four of them this morning. (Someone had to taste test!) Stop the madness!!
Almond Joy Truffles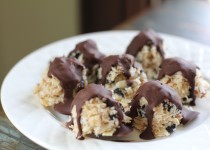 Play with the amount of sweetener you add to find the perfect amount for your taste buds. The first batch I made, I used 2 Tbsp and they were a little too sweet for me!
If you have difficulty getting these to hold together, place the batter back in the refrigerator until the coconut oil firms up a bit. It took a full hour for mine to set. Another option is to press the mixture into a pan and cut it into squares once it sets.
Prep Time:

01h 15min

Yield:

18 one-inch truffles
Ingredients:
Preparation:
Mix the dry ingredients in a medium bowl.
Mix the wet ingredients in a small bowl or liquid measuring cup.
Add the wet ingredients to the dry, then place in the refrigerator for one hour or until the coconut oil starts to firm up.
Roll into one-inch balls. (I used a cookie scoop.) Return to the refrigerator.
Melt chocolate on the stovetop or in the microwave (50 percent power for about 90 seconds).
Use a spoon to drizzle truffles with chocolate. Store in the refrigerator.
Adapted from songbirdblog.com.