I hope you are enjoying your summer! I've been off the grid for a while, making the most of my time with family and friends. After a recent 10-day visit from our dear friends from Australia, I am trying to make up for all of last week's eating out with simple and delicious paleo meals. And since it's summer, I really don't want to spend a lot of time cooking. This recipe takes about 20 minutes from start to finish, including the prep work.
I've tried quite a few salmon recipes at home. Some have been great, and some have been less than blogworthy. I've also enjoyed many different salmon dishes at my favorite restaurants. I find wild salmon to be a more reliable choice when looking for a paleo-friendly restaurant meal . Although there's been progress in the last couple of years, it's still uncommon to find grass-fed steak on restaurant menus. However, many offer a wild fish choice and salmon is pretty easy to find.
Tonight I was in the mood for the type of crispy salmon I've only had in restaurants. The kind that is perfectly moist in the middle and has a nice crisp crust on the outside. Fortunately, this is not difficult to achieve at home.
You can also keep it pretty economical by picking up a large wild salmon filet from a store like Costco. I simply cut it into individual portions and freeze whatever we don't use right away. That way, when Dave travels and I am cooking for one, I can quickly defrost a portion for a quick meal. If that is not an option for you, many stores, such at Target, offer frozen wild salmon fillets that are individually wrapped. And there's always your local fish monger…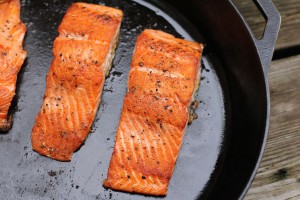 Dave and I have enjoyed sitting at the chef's counter a couple of times at Milwalky Trace, one of our favorite new restaurants in downtown Libertyville. It's been fun to observe all of the food being prepared. One thing I've learned is that ALL of the food is cooked over very high heat.
The same method is used for this dish. It is important to have the pan searing hot before you place the fish in the pan. A cast iron skillet is ideal for this preparation. We use our Lodge skillet 1-2 times a day. They don't cost a lot and they are awesome to cook in. Whatever pan you choose for this recipe, just be sure it is oven-proof since you will be transferring it to the oven to finish off the fish.
Give this quick and easy salmon a try with just a squeeze of lemon or all by itself. Either way, you won't be disappointed.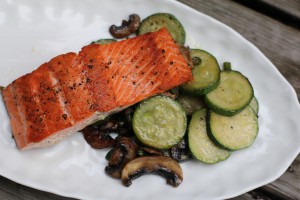 Crispy Salmon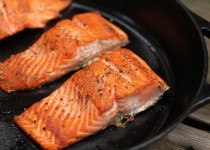 Prep Time:

5 minutes

Cook time:

12-15 minutes

Yield:

4 servings
Ingredients:
Preparation:
Preheat oven to 400°F.

Rinse salmon and pat dry with a paper towel.

Brush both sides of the salmon with oil, then season flesh side liberally with salt and pepper.

Warm a large cast iron or other heat-proof skillet over high heat. When skillet is searing hot, place salmon, flesh-side-down in the skillet and cook undisturbed for 4-5 minutes. Use a long spatula to release the fish from the pan. If it sticks, let it continue cooking until it releases easily.

Flip the fish and turn off the burner. Use oven mitts to carefully transfer the skillet to the preheated oven. Bake for about 8 minutes or until fish is cooked to your liking. Fish should be crispy on the outside and moist on the inside.

Enjoy with your favorite vegetable side dish.
Adapted from momtastic.com.