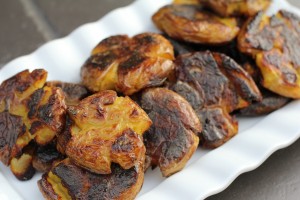 I offer you this recipe as a celebration of the recent Whole30 sanctioning of white potatoes (minus processed chips and fries, of course) as an approved Paleo food. Whoo hoo! I'm excited that now, when I eat white potatoes, I no longer have to consider them a cheat food. This recipe is also a tribute to our friends, David and Ferne, who recently braved the very long flight with their children from the Land Down Under to stay with us for 10 days. On the last day of their visit, David treated us to a traditional Australian meal of roasted lamb and …you guessed it…crispy smashed potatoes! My husband, David, whose family hails from England, said he loved these potatoes when he was growing up. I guess he didn't feel like sharing that important information with me until now.

I love these potatoes! They are melt-in-your-mouth tender on the inside and crispy on the outside. This side dish is perfect with just about anything. Use organic potatoes if you can. I got a 5 pound bag from Door to Door Organics this week and they are buttery smooth.
Enjoy!
Crispy Smashed Potatoes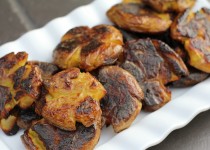 This recipe can be completed through Step 7, up to 8 hours ahead. At meal time, simply season and roast!
Please note that the recipe includes instructions for roasting the potatoes in the oven. However, I roasted them on a gas grill at medium high heat (400° - 450°F). There is a little less control over the process, but they turned out awesome!
Prep Time:

01h 40min

Cook time:

01h 10min

Yield:

4 servings
Ingredients:
Preparation:
Wash potatoes and place in a large stock pot, preferably in a single layer.
Cover with water to one inch above the tops of the potatoes and add 2 tsp salt to the water.
Bring to a boil over high heat. Cook until completely tender but not overcooked, about 30 minutes.
While the potatoes boil, place a double layer of dish towels on the countertop. Fold another towel in quarters. Line a large rimmed baking sheet with foil, then top with a layer of parchment paper.
When cooked through, remove the potatoes with a slotted spoon and place on the towels. Let drain for 1-2 minutes.

Use the folded towel to protect your hand while firmly smashing each potato to about a 1/2 inch thickness.
Allow hot potatoes to cool to room temperature, about 20 minutes. Carefully transfer cooled potatoes to the baking sheet.

P

reheat the oven to 450

°F conventional, or 400

°F on the convection setting. 

Drizzle with oil, gently lifting the potatoes to ensure that the oil goes underneath them. Sprinkle with 1/4-1/2 tsp sea salt.
 
Roast the potatoes until they are crispy and nicely toasted along the edges, about 30-40 minutes, flipping with a spatula or tongs half way through the cooking time.
 
Serve hot.
Adapted from finecooking.com.