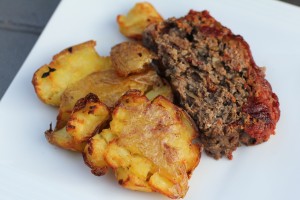 It is a cool fall Sunday. Perfect for football and snuggling in front of the fire. I recently decided to take the whole "Sunday is a day of rest" thing more seriously. Instead of running around doing errands after church, I am focusing on spending the day with my family and doing things that are totally relaxing…like reading and cooking!
I love Sunday dinners that are warm and comforting. Meals that may take some time in the kitchen, but not too much effort. This recipe definitely meets those requirements.
This was literally the first meatloaf recipe I ever made. My mom made meatloaf when I was a kid, but I don't remember much about it. This version, inspired by our friend Rob, is paleo comfort food at its finest: bacon, mushrooms, onions, and grass-fed ground beef. Yum! The first few times I made this, I added two eggs and a cup of almond flour. Since eggs are out of the picture for me right now, I decided to use a flax egg and cut the almond flour in half. If you don't have any issues with eggs, by all means use one.
When you cook this, be sure to place a pan underneath your baking dish or use a special meatloaf pan with drainage holes. The fat from the bacon will start to simmer and could make quite a mess in your oven. (I speak from experience!)
I hope you enjoy the combination of meat and veggies all in one delicious bundle!
Bacon Mushroom Meatloaf (AKA Rob's Meatloaf)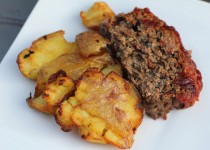 Chop the mushrooms and onion in a food processor to speed up your preparation. For another shortcut, you can substitute jarred tomato sauce for the ketchup and hot sauce.
Note: To make a flax egg, simply combine 1 Tbsp ground flax meal with 3 Tbsp water and let it sit for about 5 minutes or until it reaches the consistency of an egg white.
Ingredients:
Preparation:
Preheat oven to 350 degrees F.
Add bacon to large skillet over medium high heat. Saute for 10-15 minutes or until bacon is crispy. Transfer bacon to a paper towel to drain. Pour out all but about 2 Tbsp of bacon fat from pan. Add onion and mushroom and saute for an additional 5-10 minutes or until onion is translucent. Add garlic for the last minute of cooking time. Let cool slightly.
Crumble ground beef into a large mixing bowl. Add bacon, onion mixture, egg (or flax egg), 1/4 cup of almond flour, salt, and pepper. Mix well with a wooden spoon or clean hands. (I like to wear latex-free gloves and mix it with my hands.) If the mixture is too wet, add more almond meal, a Tbsp at a time, until it holds together well.
Combine paleo ketchup and hot sauce in a small bowl.
Transfer meat to a large loaf pan. Pat it down gently and round the top a bit.

Pour ketchup mixture on top and spread evenly with a spatula.

Place in the oven on the middle rack. Place a large rimmed baking sheet underneath it.
Bake for one hour or until cooked through.

To serve, slice into 1/2 to 1-inch slices and serve with your favorite veggie side.