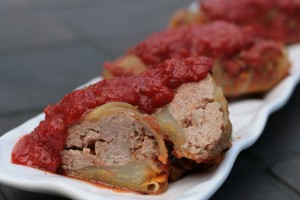 This is an updated version of my original cabbage roll recipe post. The key differences are that these are cooked in a crock pot and that I steam the cabbage leaves before stuffing so that they are easier to roll. It's a simple trick that makes this recipe so much better! This recipe is awesome, it makes a lot, and is versatile. Feel free to use any ground meat you have on hand. I've used lamb, beef, and half beef/half turkey. They've all turned out great!
If you are sensitive to eggs like I am, flax eggs work great in this recipe. Simply combine 1 Tbsp flax meal with 3 Tbsp water. Let it sit for a few minutes or until it becomes the consistency of an egg white. It binds the meat exactly as an egg would.
Enjoy!
Crock Pot Cabbage Rolls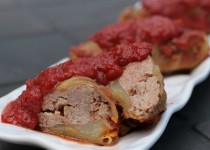 Prep Time:

30 minutes

Cook time:

04h 00min

Yield:

12 rolls
Ingredients:
Preparation:
Pulse cauliflower in food processor until it is a rice-like consistency. Transfer to a large bowl.
Pulse onion and garlic in food processor until finely chopped. Blot or drain slightly, if needed.
Heat oil in a large skillet over medium heat. Add onion, garlic, basil, cumin, and oregano. Sauté for 2-3 minutes, or until onions start to soften. Remove from heat.
Add meat, almond flour, egg, and garlic powder to the cauliflower. Combine thoroughly with your hands or a large spoon. Add in onion mixture and mix well.
Cut around the core of the cabbage with a sharp knife. Separate and rinse about 12 large outer cabbage leaves. Place them in a large microwave-safe bowl and cover. Microwave on high heat for 2 minutes, working in batches, if needed.
Line large crock pot insert with two large cabbage leaves (use the ripped ones). This will insulate the cabbage rolls when cooking and prevent them from burning.
Place one cabbage leaf on a flat surface.
Scoop 1/2 -3/4 cup of the meat filling onto the stem end of the cabbage leaf. Starting at the stem end, begin to roll while tucking in both sides (like a burrito).
Repeat with remaining cabbage leaves to form 10-12 large rolls. Place rolls in the crock pot, seam-side down. Layer the rolls, if needed.

Pour tomato sauce evenly over top of cabbage rolls.

Cook on high for 4 hours or low for 6-8 hours.  To serve, place 2-3 cabbage rolls on each plate. Spoon sauce and drippings on top and around the rolls. Enjoy!
Adapted from www.cavemanstrong.com.