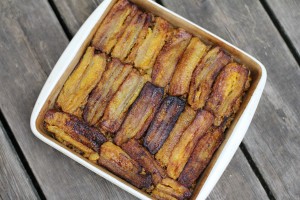 First I have to say, that if you are even THINKING about making this recipe, DO IT! You will be happy you did!
When Dave came home from the CrossFit event last year, he was excited to tell me about a dish he had tried at one of the food trucks. Ironically, around the same time, my younger sister and her husband came over raving about the pastelon they had at a local Puerto Rican restaurant. I took this as a sign that it was time for me to make my own version.
As is, the traditional dish (minus the dairy) is paleo. Pastelon is a lasagna made with plantains as the noodle and is often baked with an egg and milk mixture. I chose to make mine dairy and egg-free since eggs don't get along very well with my skin these days. Because of this, the lasagna doesn't hold its form very well when you serve it, but that's okay by me!
I had planned to boil and mash the plantains instead of cutting them in long strips and frying them. As luck would have it, I let my plantains get SO ripe that when I opened them, they were already pretty soft—definitely too soft to boil.
What I ended up doing is slicing the firmer plantains into strips, then frying them in palm oil until they were nicely browned and somewhat crispy. I fork-mashed the remaining plantains in a bowl and used them as a bottom layer for the lasagna. Because they contained a lot of liquid, I baked the bottom layer for about 25 minutes and then added the rest of the layers. If your plantains are not quite as ripe as mine were, you could slice and fry all of them and just use the sliced plantains as a bottom layer.
I also made a couple of simple spice blends to replace the processed store-bought blends. They were super easy to make with ingredients I keep on hand. I did have to purchase the annato (be sure to get it pre-ground) at our local Savory Spice Shop, but you could substitute paprika if you'd like. I made these spice blends a couple of days in advance so when it was time to make the lasagna, I was good to go.
So, I guess what I'm saying is that you need to plan ahead for this meal, but it's well worth the effort. Dave and I both agree that it was one of the best, most flavorful dishes we've had in quite a while. We seriously loved this dish and I'm sure you will, too! Enjoy!
Puerto Rican Sweet Plantain Lasagna (egg-free)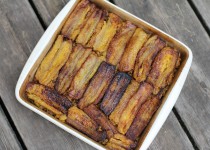 Here are the links to the spice recipes:
Be sure to read the instructions all the way through before starting. You can work on several steps simultaneously.
I processed all of the veggies in the food processor to save time.
Raisins are the traditional addition to the meat mixture but I am not a fan of raisins. The currants were amazing—tiny little pops of flavor!
Prep Time:

30 minutes

Cook time:

01h 15min

Yield:

6-9 servings

Allergens: Nightshades
Ingredients:
Preparation:
Preheat oven to 350°F.

In a medium bowl, combine beef, onion, pepper, garlic, cilantro, adobo, oregano, vinegar,and sazon.
NOTE: I find the best way to mix ground meat with other ingredients is by hand. I use disposable kitchen gloves to make the work mess-free.
 

Saute the beef mixture in a large skillet over medium-high heat. When the mixture is browned and bubbly, add the bay leaves, currants, olives, and tomato sauce. Simmer for 10 minutes.

Cut the ends off of the plantains and use a small, sharp knife to cut a slit down the seam. Peel the plantains, then cut them in half crosswise. 

Mash about 1/3-1/2 of the ripest plantains in a bowl. 

Thinly slice each piece of the firmer plantains in half lengthwise (so you have 4 long slices per piece).
Heat about 1/3-inch of palm oil in a large, heavy skillet. Working in batches, add a single layer of plantain slices to the hot oil. Sprinkle with salt. Fry for about 2-3 minutes total or until nicely browned, flipping half way through. (I used a fish spatula to flip mine.)



Set fried plantains on a double layer of paper towels to drain and blot the top with more towels.

While you fry the plantain slices, scoop the mashed plantain in the bottom of a 9x9 square baking dish and spread into an even layer.
 
Finish the pastelon by topping with the remaining plantain slices, placed closely together in a single layer.