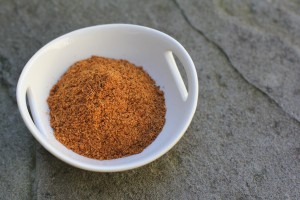 Sazon is a spice blend used to lend authentic flavor to Latino dishes. I have never tried the Goya Sazon, but I am certain this tastes better, without any of the additives or preservatives. I love keeping homemade spice blends on hand to speed things up at dinner time.
This recipe, from Sara-Marie at Consider the Leaf Turned, has a nice kick to it. The seasoning is integral to Pastelon (Sweet Plantain Lasagna). It is super quick and easy to make with spices I usually have on hand. I did have to make a trip to our local Savory Spice Shop for the ground annato, but you can substitute paprika if you'd like. I also picked up a spice jar when I was there so I could store the leftovers with my other spices. A leftover spice jar or mason jar would also work well.
Enjoy!
Sazon Seasoning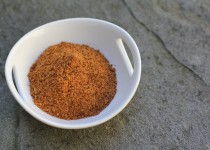 1 1/2 tsp of this homemade blend is equal to one package of Goya Sazon.
Substitute paprika for annato, if desired.
Prep Time:

5 minutes

Yield:

7 Tbsp or about 4 ounces
Ingredients:
Preparation:
Combine all ingredients in a small bowl. 

Transfer mixture to a small food processor or Magic Bullet and process until it is finely ground.

Store in an airtight container.
Adapted from smponsie.blogspot.com.