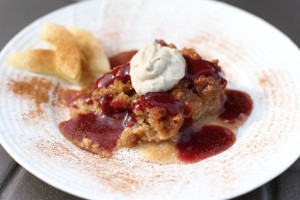 This recipe really highlights the flavors of fall. I have always been an apple crisp fan—the crispy part pulls me in every time. I think of it as making a super-easy apple pie. And what goes great on apple pie? Vanilla ice cream, of course! But not for me! Now that eggs are out of my diet, I wanted to add the same creamy richness that dairy offers, but in a non-dairy form. I also wanted something that I could make quickly. I think you'll really love this Maple Cashew Cream, whether you can eat ice cream or not. It is amazing and the perfect complement to this dish. To make it even more amazing, I added fresh cranberries cooked down into a Spiced Cranberry Sauce. It really boosts the fruity flavor of this dish while balancing out the creaminess of the Maple Cashew Cream. These garnishes really take the apple crisp to a new level.
If you are reading this and thinking that it looks like too much work, the Maple Cashew Cream takes about 3 minutes of hands-on time. The Spiced Cranberry Sauce simmers for about 20 minutes, but it is super easy to make. Both sauces have a short list of ingredients and can be made while the apple crisp is baking. Just be sure to plan ahead and soak cashews for at least two hours, but preferably overnight. If you're still not up for the challenge, then you can simply make the apple crisp and call it a day. But you won't regret making these toppings. You're going to want a bit of each flavor in every single bite!
Each of the ingredients in this recipe was delivered to my door from Door to Door Organics. #JoyDelivered!
Please note that I was compensated by Door to Door Organics to share this information, however, the thoughts and opinions expressed in this blog post are my own.
Apple Crisp with Spiced Cranberry Sauce and Maple Cashew Cream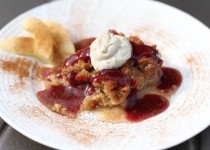 The texture and tartness of Granny Smith apples make them an excellent choice for baking, but you can substitute your favorite apple, or even pears. If you use pears, reduce the baking time a bit since they cook faster.
Prep Time:

30 minutes

Cook time:

55 minutes

Yield:

9 servings
Ingredients:
Preparation:
Apple Crisp Filling
Preheat oven to 350°F.

Combine lemon juice, apple juice, arrowroot powder, nutmeg, and cinnamon in a medium bowl.

Peel and core the apples, slice in half lengthwise, then cut into 1/4-inch thick slices. 

Add apples to the bowl and toss gently to combine. Transfer the mixture to an 8x8 baking dish.
Apple Crisp Topping
Combine 2 cups almond flour, cinnamon, nutmeg, and sea salt in a medium bowl.

Combine coconut oil, honey or maple syrup, and vanilla in a small bowl.

Pour the wet ingredients into the dry ingredients and stir to combine. Add more almond flour, a 1/4 cup at a time, until it reaches a nice crumbly texture.

Use your hands to sprinkle topping evenly over the apples.

Cover with foil and bake for 45 minutes. Uncover and bake for 5-10 more minutes or until top is nicely browned and filling is bubbly.

Cool for 30 minutes, then slice and plate.

Drizzle with Maple Cashew Cream and a generous drizzle of Spiced Cranberry Sauce.
Maple 
Cashew
Cream
Combine all ingredients in a high-powered blender and blend on high speed until creamy. A Vitamix works great for this.
Spiced Cranberry Sauce
In a medium saucepan, w

hisk together maple syrup, water, apple juice, vanilla, and cinnamon.

Bring to a simmer over medium heat, then add cranberries. When cranberries pop, reduce heat to medium low and simmer for 15-20 minutes or until cranberries are dark red and soft.

Transfer mixture to a high-powered blender and mix until smooth.
NOTE: If you prefer a chunkier sauce, omit this step. 
Add water until the sauce reaches the consistency you desire.
Note: I stored the thickened sauce in a jar. When I was ready to use it for the apple crisp, I added 2 tsp water to 1 Tbsp sauce per slice of apple crisp. Any leftover sauce can be used as a spread or to enhance chicken, turkey, or pork.