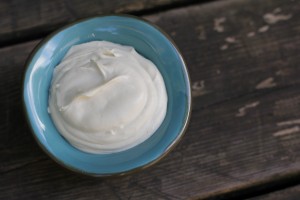 If you've been following Paleo Table for very long, you know that after doing a 21-day elimination diet earlier this year, I discovered that eggs contributed to many of my skin issues. Reluctantly, I gave them up…almost. I would still bake with an egg here and there, knowing that my face would suffer the consequences and that I would have to deal with red, itchy, flakey skin for a while. But recently, I decided to give up eggs cold turkey. I have definitely seen an improvement in the condition of my skin and it hasn't been too difficult, especially since we eat at home a lot where I have total control over what I eat.
Over the past month, I've tried a couple of different egg-free mayonnaise recipes that, in my book, fell a bit short on taste and texture. If I am making mayonnaise, I actually want it to taste like mayonnaise, with that same creaminess that takes salads, dips, and dressings to the next level. Dave would lovingly bear with my experiments and afterwards say, "I just want the NORMAL mayonnaise. Like you used to make." But I was determined to find a recipe that would work for both of us…
Then I came upon this recipe that really hits the mark. I've found that when I dip my toes into vegan waters, there are a plethora of awesome egg-free recipes that work well for me. I already knew that cashews could morph into creamy delights such as cashew cheesecake, cream of chicken soup, and cashew ricotta. So why not mayonnaise?
I'm not sure if this recipe would work as well if I didn't use my brand new Vitamix. Yup, I finally took the plunge a couple of weeks ago at Costco, after my regular blender burnt out trying to puree some yuca root. (I've since decided that, while yuca is delicious, its stickiness makes it not such a great option to work with.) I'm sure a Blendtec would do the trick, but I'm not sure a regular blender or food processor would blend to the creamy consistency you need to make this a true contender with traditional mayo. However, feel free to give it a try and blend the heck out of it—it just might work!
This mayo has a very mayo-like consistency, with a barely detectable hint of graininess. It can also definitely be thinned down with a little water, if needed. After you taste it, you can adjust the amount of lemon juice, mustard, vinegar, and salt you use to make it exactly as you like it. When I first tasted this mayo, it was warm from the Vitamix and I could taste a bit of the cashew and cauliflower in it. Once I chilled it, I was really surprised at how much it tasted like good old-fashioned, egg-based mayonnaise. In fact, I don't think even the most discerning taste buds could detect any difference between the two if they were mixed into a tuna salad or dressing.
I'm going to keep experimenting with this base recipe and will keep you updated. In the meantime, give it a try. It is super-easy to make and delicious! Oh, and Dave likes it, too.

Enjoy!
Creamy Cashew Mayonnaise (Dairy-Free, Egg-Free, Raw, Vegan)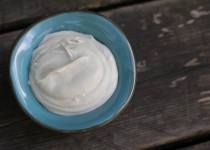 It is very important to use an oil that doesn't have a strong flavor, unless you want to taste it in your mayo. Be sure to use the olive oil marked "light tasting."
Prep Time:

02h 05min

Yield:

1 pint

Allergens: Nuts
Ingredients:
Preparation:
Add all ingredients to the bowl of a high-powered blender (e.g., Vitamix, Blendtec).

Blend on high speed until smooth. Use the Vitamix tamper, if needed.

Taste and add ingredients, as needed, until the mixture is the taste and texture you desire.

Refrigerate before serving.
Adapted from healthyblenderrecipes.com.