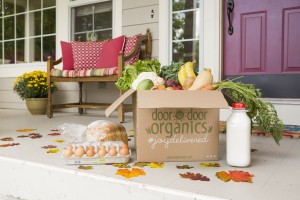 Do you know the meaning of #JoyDelivered? Any fan of Door to Door Organics most certainly does! If you've been following Paleo Table for very long, you know how much I LOVE my weekly veggie boxes. Besides getting farm-fresh, local (when available) organic produce and meat delivered straight to my door, every week DTDO's selection of meat, deli, and pantry items continues to grow. Now I can even get my Applegate frozen breakfast sausage delivered! They always seem to carry my favorite brands, and I can customize my weekly order up to noon on the day before delivery. This all adds up to less time in the grocery store and more time in the kitchen, which is definitely where I'd rather be!
Imagine how excited I was when DTDO reached out to me to see if I wanted to be an ambassador for their brand. Heck yes! That was a total no-brainer.

Literally every interaction I've had with this company has left me feeling good. From their delivery people to their recipe team to their customer service, everyone has been exceptionally kind, enthusiastic, and helpful. And now I get to pass some of the benefits on to you!
As a starter, if want to check their veggie boxes out for yourself, click this link and enter Paleotable14 (affiliate) for 10 percent off of your first order (new customers only).
Stay tuned for more great offers that will get you excited about Door to Door Organics. They truly offer #JoyDelivered!