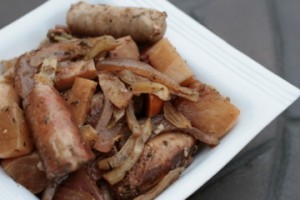 This recipe is so simple, yet the end product is surprisingly flavorful. Not only do you get to enjoy a deliciously healthy meal, but your kitchen will smell SO good! I put this recipe together using ingredients I had on hand. Almost everything came to me via Door to Door Organics. The mix of vegetables and sausage you use is completely up to you. I had two different types of sausage, along with some miscellaneous vegetables from my weekly veggie box. Be sure to use the best quality balsamic vinegar you can afford—it makes a difference! This is a memorable meal and the leftovers are just as enjoyable.
Sausage and Root Vegetable Casserole
Prep Time:

15 minutes

Cook time:

01h 15min

Yield:

4-6 servings
Ingredients:
sausages -

6-8, beef, pork, or turkey

turnips -

1 pound, peeled and cubed

carrots -

1/2 pound, peeled and cut into 1-inch pieces

onion -

1 large or 2 small, peeled and cut into 8 wedges

fennel bulb -

1, trimmed, cored and sliced lengthwise

red pepper -

1, cored and thinly sliced lengthwise

freshly ground black pepper -

to taste

sea salt -

to taste

Marinade
chicken stock -

1/2 cup

extra virgin olive oil -

2 Tbsp

garlic cloves -

2, minced

dried basil -

1/2 tsp

dried oregano -

1/2 tsp

dried thyme -

1/2 tsp
Preparation:
Preheat oven to 400°F.

Combine marinade ingredients in a medium bowl. Set aside.

Toss vegetables together in a large roasting pan.

Pour marinade over the vegetables and toss to combine.

Cover pan with foil and cook for 45 minutes or until vegetables are fork tender.

While veggies cook, saute sausage in a large, heavy skillet over medium high heat for 10 minutes or until browned on all sides. The sausages do not have to be cooked through since they will finish cooking in the oven.

When vegetables are fork tender, add sausages to the roasting pan and cook for an additional 20 minutes, uncovered.

Turn sausages, ladle pan juices over the mixture, and continue to cook for 10-15 minutes or until sausage is cooked through.
Adapted from http://www.kayotic.nl/blog/lazy-sunday-casserole.