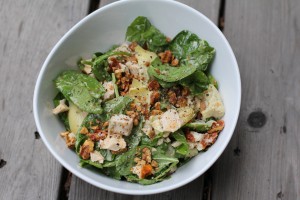 This recipe started out as a stuffed chicken breast recipe that was a bit underwhelming. I had this great concept for a stuffed chicken breast. The filling was quite tasty, but the end result was not what I had envisioned. Dave and I ate our mediocre stuffed chicken breasts for dinner one night. The next day, so it wouldn't go to waste, I chopped up the leftovers, added a little mayo, and I now had a meal that had Dave asking what was in it because it was SO good! It's funny how things like that happen sometimes, isn't it?
I decided to pretty the recipe up a bit and improve balance of flavors and the texture. What I came up with is easy and delicious! The combination of artichokes, sun-dried tomatoes, basil, and garlic give it a bit of a mediterranean feel. This salad came together quickly with the help up canned artichokes, rotisserie chicken, and jarred organic oven-dried tomatoes that I picked up at Costco.
This salad served both Dave and I for lunch, but he eats a lot and I was super hungry. You could definitely satisfy three less voracious appetites, if you needed to.
Enjoy!
Stuffed Chicken Salad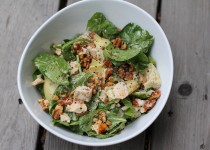 For this recipe, you can use Paleo Mayonnaise or Creamy Cashew Mayonnaise (egg-free).
In a hurry and don't have any mayo made? Just drizzle the salad with a little olive oil and balsamic or red wine vinegar.
Ingredients:
Preparation:
Place all salad ingredients in a large bowl and toss gently to combine.
Combine 2-3 Tbsp mayonnaise with 2-3 Tbsp filtered water to thin out the dressing.
Drizzle mayonnaise dressing on the salad and season with salt and pepper.
Toss to combine.
Divide evenly among 2-3 serving bowls and garnish with additional walnuts, if desired.