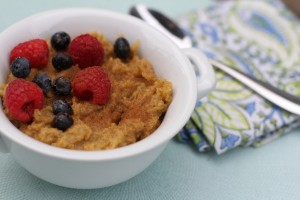 I call this Acorn Squash Porridge in honor of my husband's British heritage and his family still in England. It is one of my favorite cool-weather breakfasts—and a phenominal way to use up leftover winter squash. It is seriously SO delicious. I've tried another take on paleo oatmeal, using pureed nuts as the base. Yes, it was yummy…but this is exceptional. It contains only a few ingredients, and if you use leftovers or make the squash in advance (which I highly recommend), it takes just a few minutes to mix up in the morning. You could also make a couple days worth of the porridge in advance, store it in the refrigerator, and reheat it in the mornings throughout the week. Instant porridge!
In warmer weather, I top my porridge with berries, but in the fall, it is very tasty with toasted nuts and apples. The measurements listed in the recipe are a great starting point. If you like your porridge a little thinner, add more coconut milk. Or use almond milk, if you prefer. The sweetener can be adjusted to your tastes or left out altogether. Honey and maple syrup are the sweeteners of my choice here—I usually opt for raw honey and stir it in to the warmed porridge. I love cinnamon, but you could use a little pumpkin pie spice instead. The almond butter helps to bulk it up and add a little protein, but if you are doing a Whole 30, it can easily be omitted. I often make this with a side of Applegate Chicken Apple Breakfast Sausage.
I hope you enjoy my tasty take on breakfast!
Breakfast of Champions: Acorn Squash Porridge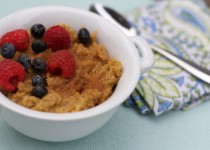 Ingredients:
Preparation:
Mix together squash, almond butter, coconut milk, and cinnamon.
Microwave for 1-2 minutes, until it reaches your desired degree of warmth.
Carefully remove from microwave and stir in raw honey. Raw honey tends to be pretty solid, so swirling it in the hot porridge will make it melt and distribute evenly.
Top with a dash of cinnamon and add fresh berries, apples, and/or chopped nuts if you'd like.